16 Foot Flat Bottom Jon Boat Boats for sale
$1,850
Windfall, Indiana
Category Bass Boats
Length 16.0
Posted Over 1 Month
UP FOR AUCTION IS THIS 16 FT ALUMINUM FLAT BOTTOM JON BOAT WITH A GREAT RUNNING 9.8 MERCURY 2 STROKE SHORT SHAFT MOTOR, AND BOAT TRAILER! THE BOAT HAS BEEN PAINTED WITH A CAMO PATTERN, AND HAS A NEW PLYWOOD FLOOR WITH BUILT IN STORAGE COMPARTMENTS WITHIN THE RAISED DECKS. THE BOAT HAS A STABLE 40 INCH "FLOOR" WIDTH, WITH A TOP BEAM WIDTH OF 56 INCHES! THE MOTOR HAS JUST BEEN SERVICED, AND RUNS, IDLES, SHIFTS, AND PUMPS WATER AS IT SHOULD! COMES WITH 2 ADJUSTABLE PEDESTAL SEATS, FOOT OPERATED TROLLING MOTOR, MARINE BATTERY, METAL VENTED GAS TANK WITH FUEL LINE AND CONNECTORS, 2 ANCHORS, AND ROWING OAR. THE TRAILER PULLS EXCELLENT, AND HAS GOOD WHEELS AND TIRES. I AM NOT SURE OF THIS BOAT'S MANUFACTURER, AS I PURCHASED THIS BOAT USED, AND I CANT SEEM TO FIND THE MANUFACTURER'S NAME ON THE BOAT. THIS BOAT HAS BEEN ON THE WATER SEVERAL TIMES THIS YEAR. LIVING IN INDIANA, THE BOAT DOES NOT HAVE A TITLE, (A BILL OF SALE IS ALL THAT IS NEEDED FOR REGISTERING IN INDIANA), AND THE BOAT TRAILER HAS A CLEAN INDIANA TITLE. I WILL BE HAPPY TO SHOW YOU THE MOTOR RUNNING FOR YOUR INSPECTION, BUT LIKE ALL ITEMS I SELL, THIS ITEM IS BEING SOLD AS IS WITH NO EXPRESSED WARRANTIES OR GUARANTEES.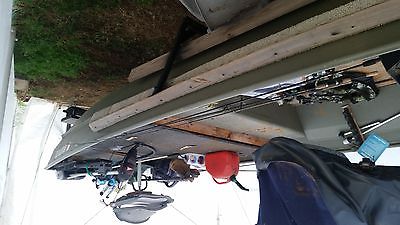 $5,000
Sneedville, Tennessee
Year 2012
Make Lowe
Model -
Category Jon Boats
Length 16.0
Posted Over 1 Month
2012 Lowe flat bottom Jon boat.
$400
Pittsburgh, Pennsylvania
Category -
Length -
Posted Over 1 Month
RATED FOR 5 HP HORSEPOWER 495 lbs PERSON WEIGHT IN POUNDS 530 lbs PEOPLE AND GEAR 1977 MEYERS I BELIEVE THERE IS FLOTATION IN THE SEATS **************************************************** 1) Year 1977 2) Make and model MEYERS FLAT BOTTOM JON BOAT 14' 3) Running or not running NO MOTOR INCLUDED 4) Title or no title TITLE 5) Overall condition GOOD TO EXCELLENT 6) Pictures ACTUAL 13'9" LONG 16" TALL 48" WIDE CAN TRUCK TOP, VAN TOP, TRUCK INSIDE HAULING, LIGHT FOR IT'S SIZE. COMES TO POINT AT BOW STARTING 50" BACK TOWARDS STERN