Burns Craft 48 Boats for sale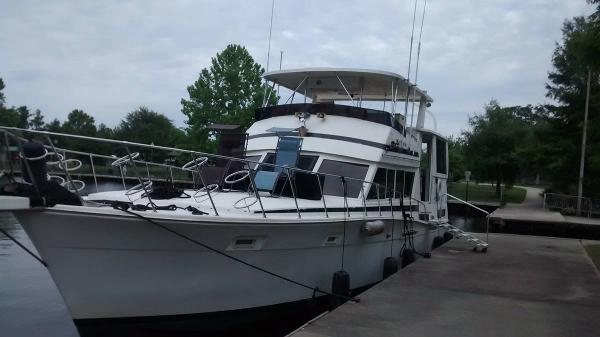 $99,000
Fort Lauderdale, Florida
Category Motor Yachts
Length 48'
Posted Over 1 Month
1982 Burns Craft 48 Motor Yacht 1982 48 Burns Craft fiberglass Motor Yacht.  This is a Viking hull with beautiful lines and handles adverse weather great and Burns Craft built it.Featuring three state rooms, two full baths, washer & dryer, dish washer, trash compactor ,stove microwave,full size refrigerator with ice maker.  There are two wet bars each with their own ice makers,4 central a/c with heat units as well as older electronics.She won't last long!  Presently installing new carpet and kitchen flooring.Her two 671 GM's have only 600 hours, generator runs great (16kW?).  Will have bottom done for sale or deduct from the sales price.Call today, partial trades considered.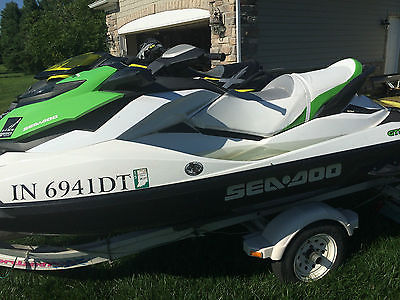 $11,500
Fort Wayne, Indiana
2013 Seadoo GTI 130 with 48 hours and a dual impeller ( great for flyboaring). Comes with removable quick nozzle and plate. Switch from jetski to flyboard and back to jetski within 1 minute. Flyboard is brand new and is a 2013 model. This setup can fly a 280lb person 18feet high plus and a 160lb better than 25ft. Only burns 1-2 gallons per hour in eco mode while flyboarding which is very good. Top speed of seadoo is about 50-55mph in jetski mode. Also comes with EMK throttle kit and two cables. We have never hooked it up on this model, but was tried out for a few flights on another seadoo. ($1800 value). EMK will need short throttle cable to complete the setup (about $150-200). Also comes with stock impeller as well. Message if your interested in a used flyboard setup. Can discount price a little.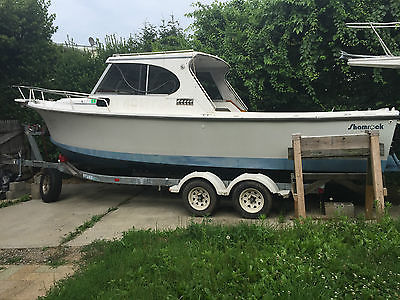 $15,000
Bethpage, New York
You are bidding on a near mint 1989 26' Shamrock Mackanaw Hart top Express type fishing boat. It has a Loa of almost 29 feet Shamrock Marine boats are one of the most high end, high quality made fishing boats ever made. The craftsmanship and structural integrity of this boat is mind blowing. A true offshore fishing machine with all the amenities you can ask for. The patented Keel Drive Design performs extremely well in offshore conditions and is very economical to run. Shamrock quality can easily be compared to names like Bertram, Rampage, Albemarle, Blackfin, Fountain, Contender, Pursuit and Boston Whaler. Shamrocks were hand made and hand laid by skilled craftsman using the highest quality materials. NOT LIKE the mass produced production line fishing boats like Grady White, Mako, Aquasport, Proline, Bayliner, Trophy and the like. Very few Pilot House hulls are available to choose from that have quality structural integrity besides the Shamrock, Parker s, May Craft s and Steiger s COMPLETE DESCRIPTION DRIVETRAIN - Powered by a Single Chevy V-8 350 pushing 250 horsepower. The motor starts right up and runs smooth at any rpm and pumps tons of water. The oil pressure is excellent and the motor runs cool as well. The engine is mated to a Borg Warner Velvet Drive straight inboard transmission that shifts smooth and quiet in both forward and reverse. The running gear including prop is in great condition and operates vibration free. The huge solid bronze rudder is in great shape and issue free. Extra spare prop in mint shape is also included. KEEL DRIVE - Shamrock Boats are made with their patented keel drive system. It's a fully fiberglass encapsulated keel that completely protects the propeller, adds tremendous stability to the boat giving is a very smooth ride under offshore conditions, it increases fuel economy and adds stability by lowering side to rocking when you are shut down fishing. The bottom of the Keel is reinforced and protected with a solid ¼" built in strip of bronze that protects the keel from any scrapping and is extended to protect the propeller as well. On the bow of the boat at the water line is also protective bronze metal to add protection to the hull from any objects you may hit in the water. LINK TO MORE INFO ON THE BENEFITS OF SHAMROCKS KEEL DRIVE SYSTEM http://www.shamrockboats.com/content.php?p=shamrock_advantages/keel_drive_advantage.html FUEL ECONONMY - This boat is Extremely economical to run. At a mellow cruise of about 20 knots it burns about 5 gallons per hour and gives you about 4 Mpg. If you bring it up to a 24kt cruise you're still getting 3 + Mpg, depending on sea conditions of course. This is unheard of fuel economy compared to most outboard and inboard outboard boats FUEL AND FUEL MANAGMENT – Factory rigged with 2 separate 50 gallon fuel tanks located on one each side center to rear mid-ship. The tanks are leak free and were factory made from Aluminum and then barrier coated to add protection from the elements. You can run on both tanks or one depending on your preference. Each tank has its own high end Racor fuel filtration system with drain bowl. There is also additional inline filtration before the fuel reaches the carburetion. SAFETY - There are also 2 fire extinguishers included with the vessel, a life throw ring, distress flags, Flares and flare gun (flares are expired and will need replacement), life jackets, etc . STRUCTURAL INTEGRITY – THE STUCTURAL INTEGRITY OF THIS BOAT IS MINDBLOWING. FROM THE ROCK SOLID HUGE STRINGERS TO FULL FIBERGLASS ENCAPULATED KEEL. EVERYTHING IS ROCK SOLID AND IN GREAT CONDITION INCUDING ALL AREAS OF THE FIBERGLASS NON-SKID SOLID FIBERGLASS FLOORS AND HATCHES. THERE ARE NO SOFT SPOTS ANYWHERE. THIS BOAT WAS EXTREMELY WELL MADE AND OVERBUILT. THERE IS NO WOOD CORING TO ROT OUT AND CAUSE ISSUES. HULL – THE HULL HAS KNICKS, DINGS AND SCRATCHES BUT ITS A FISHING BOAT. THERE IS NO EVIDENCE OF ANY MAJOR REPAIRS FROM ACCIDENTS ANYWHERE ON THE TOPSIDE OR BOTTOM. THE BOAT IS IN GREAT STRUCTURAL SHAPE. A GOOD CLEANING AND WAXING COULD MAKE IT LOOK VEN BETTER. BOTTOM - The bottom is in nice structural condition with no sign of any hits or repairs that were ever made. RUBRAIL- The heavy duty rubrail is in nice shape ALSO COMES WITH FOLDABLE TOWER AND TOP - NOT INSTALLED OR SHOWN IN PICTURES ROD STORAGE- There are built in rod storage holders located in the cabin. Six rod storage holders located under the port and starboard gunnels. Topside there are 4 built in Stainless Steel Rod holders. COCKPIT- The cockpit is huge with plenty of room for fishing. Personally I would add 2 nice wise fishing / deck chairs with gimbals for a few hundred dollars. THERE IS A REAR REMOVABLE TRANSOM DOOR TO PULL YOUR FISH IN EASILY. WITH THE REAR CONTROL STATION ITS VERY EASY TO MAN THE BOAT SINGLE HANDEDLY AND CATCH THAT MONSTER FISH. TOP / RADAR ARCH/ ROCKET LAUNCHERS- The factory installed integrated aluminum radar arch / top enclosure with 4 built in rocket launchers is overly built and in great condition. All the welds are tight and everything is secured tightly to the decks STEERING / CONTROLS / CABLES - The steering is smooth, tight and operates the rudder properly. The Morse throttle and shift controls and control cables work properly and operate smoothly from the front station. STEERING / CONTROLS / CABLES – REAR STATION The Rear station will need new control cables and steering cable installed. I have the parts just haven't had a chance to install them 12 VOLT POWER – The boat is rigged with 2 batteries controlled by a battery selector switch. There is also an onboard battery charger system as well. MISC MECHANICAL- The trim tab motor, switches and tabs themselves works perfectly. There are 2 bilge pumps both with float switches and operate properly. The blower motor works great. The windshield wiper motor works great but it could use new wiper blades. All these items operate properly from their intended switches. GUAGES - The helm comes equipped with a full set of gauges including built in sea water temperature gauge, Volts / charging gauge (charges properly), Temperature (engine runs cool), Tachometer (operates properly), Oil Pressure (excellent), GPH gauge and clock. The gauges are back lit for night usage. Nice built in compass... SWITCHES - Every single switch operates as it should. RAILS / CLEATS / GRAB BARS - All the stainless steel rails, cleats, grab bars and mounted very strongly. The stainless rails are in great shape with no loose rails or bends anywhere. The Stainless cleats are in great shape, strategically placed and solid as rock secured. DECKS AND HATCHES- There is not one soft spot anywhere on any topside deck or the main deck. All the hatches are made of solid fiberglass (no wood core to rot out and aver cause problems).Almost every square inch of every deck is factory made with non-skid to ensure proper footing at all times. The decks are self bailing as well. WINDSHIELD - The Windshield is in excellent condition. All the glass is crack free. The aluminum is in nice shape and with some metal polish would come out amazing, The front and passenger side front lower windshield sections open up for ventilation (one locking knob is missing a $5 part in marine store) WINDOWS AND CABIN HATCH - Inside the Cabin the main hatch is made from solid fiberglass is leak and issue free. There are also 2 opening porthole hatches in the cabin that are leak and issue free. CABIN - The cabin is in decent nice shape. I have brand new cushions being fabricated. The V-Berth is a very good size and with the Insert and additional Cushion it's a huge amount of sleeping room. The headliner could use a cleaning and a little adhesive but other than that the cabin is very nice with all the teak wood... With some teak oil the cabin would look amazing. The cabin structure is all molded fiberglass including the cabin floor. BATHROOM - The bathroom is located on the left side of the cabin. It is completely enclosed for privacy. EASY ACCESS -This boat was designed for easy access to work on or maintain any and all ships systems. The engine itself can be assessed from either the forward engine hatch or a rear hatch. Transmission and packing shaft can be easily obtained. The rear rudder and steering control systems are accessed from a rear hatch. All decks are screwed down incase you ever needed to access any of the systems. There is also a built in Hose fitting so the engine can be very easily run off a hose, makes it very simple to winterize the engine with non tax and flush out the system. THROUGH HULLS PENETRATIONS- There are 5 through hulls located in the boat. The First being the water intake which has a brass pick up strainer (in mint shape corrosion free and has new zinc) The intake leads a inline manual shut off (works perfectly) then to a large southbay strainer with removable strainer and then feeds into the heat exchanger and cools the antifreeze which cools the engine in the fresh water cooling system. The Second through hull is for the salt water washdown intake which provides salt water for the live well and the salt water wash down spicket under the gunnel... This though hull contains an inline manual shut off valve that operates smoothly and properly. The Third re is a high end built in transducer which is properly installed, secured and leak free. The Fourth is where the Stainless Steel Shaft comes though the stuffing / packing box into the transmission. The stuffing box is in great shape and issue free. The Fifth is where the rudder penetrates the hull to meet the Hydraulic steering arm. This area functions properly and is issue free as well HOSES All the hoses throughout the boat are in great shape and issue free STORAGE - There is tons of storage throughout the boat. Under the V-berth are hatches with access to large individual storage compartments. Plenty of Rod storage with built in rod holders in the cabin and under the gunnels. There are 5 Tackle storage drawers and 4 long Teak shelving compartments and 2 built in deck storage or fish boxes ELECTRONICS - The only electronics that is included with the boat are 2 built in VHF Radios. Everything is pre-wired for depth finder (built in transducer), Radar unit and GPS are not included but it is all pre-wired including Raytheon Radar antenna and GPS antenna. Richie Powerdamp Compass. Optional new Lowrance Elitie 5 GPS Plotter / Fish finder to be installed upon request for the right deal MISC ITEMS INCLUDED 1) Life Jackets, Bumpers, Dock lines, Etc Bottom Line- Spend a little time finishing it up cosmetically if you choose OR - Turn the Key and go fishing on one of the most stable offshore fishing platforms you can buy TRAILER. There is no trailer included in this auction however the 48 roller galvanized trailer with torsion axels and decent tires in the pictures which fits the boat very well is available for an additional $2,000. . CONCLUSION I HAVE DESCRIBED THIS BOAT TO THE BEST OF MY ABILITY BASED ON MY OBESERVATIONS AND USE OF THIS VESSEL. YOU ARE WELCOME TO MAKE AN APPOINTMENT TO COME SEE THE BOAT FOR YOURSELF DURING THE AUCTION. I STAND BY MY DESCRIPTION 100%. IF YOU COME SEE THE BOAT WITHIN 7 DAYS OF THE END OF THE AUCTION AND THERE IS ONE WORD THAT IS INACCURATE IN THE DESCRIPTION I WILL RETURN YOUR DEPOSIT NO QUESTIONS ASKED. JUST AS YOU EXPECT BE TO HOLD UP MYEND I EXPECT YOU TO HLD UP YOURS AND FOLLOW THROUGH WITH THE PURCHASE OF THE BOAT. IF YOU ARE UNSURE OF ANYTHING PLEASE ASK FIRST TERMS 500 immediate deposit due at the end of the Auction through papal. The balance is due in 7 days by either cash or on pick up or you can send a personal check in advance as long as it clears before pick up. The buyer has 21 days to remove the boat at their expense. After 21 days the boat will be moved into long term storage for $150 per month. The boat can be kept there for as many moths as you need to work out the transport logistics. I will assist with your transporter in anyway I can. A friend of mine is a local transporter who delivers in the tri-state area only. I can get you a quote if you like. Clean NYS title for the boat that will be given to the new owner once the boat is paid in full and picked up. The boat is being sold as is with no warranties or guarantees. Good luck with the auction SOME MORE LINKS TO INFO ON SHAMROCKS SHAMROCK ADVANTAGES http://www.shamrockboats.com/content.php?p=shamrock_advantages/index.html KEEL DRIVE INFO http://www.shamrockboats.com/content.php?p=shamrock_advantages/keel_drive_advantage.html FISHING ADVANTAGES http://www.shamrockboats.com/content.php?p=shamrock_advantages/fishing_amenities.html A LITTLE MORE SHAMROCK INFO. All Shamrock hulls decks and component parts were hand-laid using rolled fiberglass materials and resin. The hull is molded in two halves and, depending on the deck and cabin configuration, an additional 15 to 20 individual molds are used to create the parts necessary for the completed vessel. This allows for removable components that provide easy access for replacement of machinery and tanks. It's a more expensive way to build boats but the result can often save hundreds, if not thousands, of dollars when repairs become necessary. When the two halves of the hull are joined, the keel is filled with a mixture of resin, sand and glass fiber resulting in a rock-solid appendage able to withstand substantial impact. The full length keel adds stability and protects the running gear. This carefully, hand crafted construction added several hundred hours of construction time to each boat Fuel tank is coated with a zinc chromate primer to help prevent corrosion from exposure to bilge water and marine quality stainless steel and bronze fittings and fastenings are used throughout. Shamrock boats are powered by direct-drive inboard engines rather than fuel burning and less efficient outboard and inboard/outdrive power options offered by other manufacturers of boats in this size range. The inboard engine is mounted near the center of the boat for better weight distribution and they are mounted lower in the hull for a lower center of gravity. This leads to greater stability and better handling characteristics such as predictable motion, good lateral and tracking stability and full-length keel that helps dampen roll whether trolling or at rest.