Chris Craft Boats 20 Sportsman Boats for sale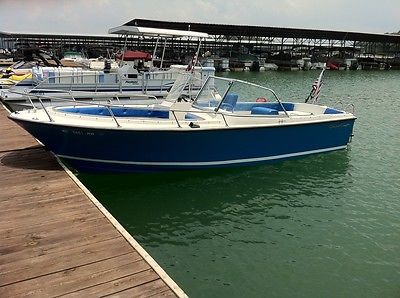 $9,000
Birmingham, Alabama
Category -
Length 20.6
Posted Over 1 Month
With much sadness we are selling our 1976 Chris Craft 20' Sportsman. This is one of the early fiberglass runabout boats. This boat is a real time capsule! It is all original with the original interior in very nice shape. Also, this boat has all the original bimini covers and the side curtains. This craft is equipped with a head in the forward seating area of the boat.It also has the original radio. Also, I have the original owners manual and paper work.The outer hull was painted by a previous owner and has some brush strokes but looks good. This is a very heavy and Solid boat! It does not need any hull repair that I know of. This was one of the reasons I bought this boat. At the time I purchased it ,the original 307 engine was installed and was in need of a rebuild due to age. This was an under powered power plant when the boat was new most likely with the thought of fuel efficiency . I talked to a professional Chevy engine builder here and a 383 stroker motor was built from the block up with attention to detail including a 4 bolt main. The engine was run on a crank-in stand and runs beautifully. The old motor was removed and the new one was used to replace it. All the original wiring was put back just as the original motor. Great care was giving to protect the boat's original status with a power increase. The problem that I am having is getting the water from the outdrive to feed the new water impeller that brings the water up to the motor. I am not sure why this is but I am sure that it is a simple thing! Someone with a little time and some knowledge of outdrives will be able to correct this with ease. I placed a water hose into the feed line for the impeller and the engine runs great! The boat was put in the water at the dock for testing but has not been out for a day of fun. The engine has no hours of use. Normally in my past, this is the kind of project that I really enjoy, but currently my time has become very limited with work and children so I have not been able to give the beautiful boat the attention that it needs. Again, I believe that with very little knowledge of boats that this can be corrected and this boat can be out on the water quickly . I have pictured the cost of the new engine. The trailer is an easy loader that was originally equipped with brakes but the previous owner took the master cylinder off the front and replaced it with a standard hitch so the brakes do not work. Also, There is no spare tire. I pulled this boat from Georgia without any difficulty but I cannot guarantee that the trailer will not give any problems. I have done nothing to the trailer. It is just the way I received it. The things that need to be addressed. The water to feed the engine cooling. The engine cowl needs to be reinstalled The trailer brakes need to be repaired and a spare purchased. I will answer and questions that are asked as accurately as possible. I want the new owner to be very happy with this very nice piece of history and wonderful boat! This boat will attract lots of positive attention and be a really neat cruiser. Fiberglass Chris Craft runabouts of this vintage are rare especially in this condition! The price that I have for this boat is a real beating for me but a steal for a new owner. I simply don't have the time to correct the simple problems. I am listing this boat on several outlets so I reserve the right to end this action early. The first to bring me some cash will have this boat. Thanks for your consideration!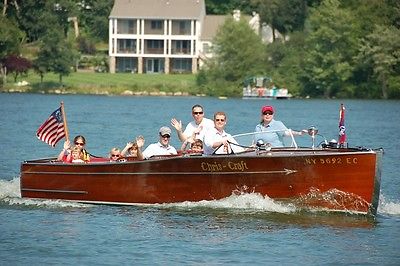 $64,900
Clayton, New York
Category Runabout Boats
Length 25.0
Posted Over 1 Month
Antique Boat America is your Premier Broker for Antique & Classic boats. Buy a boat, sell your boat, or have us find you next classic! STOCK #31392 A very rare model of Chris Craft! The company only built 25 of this 25 foot Sportmans between 1940 and 1941. This example has been in the same family for over 40 years. Always used in the fresh waters of the St Lawrence River, in the 1000 Islands Region of NY State. Maintained by the same boat shop for 30 years. Solid, sound condition with a good bottom and planking. A 350 Crusader engine was installed in the 1980's. Boat is ready for some varnish touchups, but is in great shape otherwise. Nice interior upholstery and brightwork! Would you like to call us directly? Inquiries on this boat may be directed to Mark Krzyzanowski by email at mark@antiqueboatamerica.com or direct line, 800-675-4089. Mark is a wooden boat lover and has been involved with the classics for over 20 years! We are located in the heart of the 1000 Islands, Clayton, NY; arguably one of the most popular wooden boat regions in North America. Home of the Antique Boat Museum, National Headquarters of the Antique & Classic Boat Society, and several world class restoration shops. 90 minutes North of the Syracuse, NY international airport, 90 minutes South of the Ottawa, ON international airport. 30 minutes North of the Watertown, NY airport. We encourage you to fly in and take a look at the boat with your own eyes! Offering free shuttle service to and from the Watertown airport! Let us help to arrange shipping, or keep the boat in our care until you are ready to pick it up. About Antique Boat America: Headquartered in Clayton, NY -Antique Boat America is your Premier Broker for Antique & Classic Boats. For the last 11 years, the company has provided a broad range of services to enthusiastic fans of wooden boats. Antique Boat America offers over 1,800 boats for sale on its website. To date, 29 million visitors have viewed the new daily listings and the extensive inventory of boats built by Gar Wood, Chris Craft, Riva, Century, Lyman, Ditchburn, Greavette, Minett-Shields, and Hacker Craft. The company also offers shipping, surveying, brokerage, transport, analysis, evaluations, and also assists its clients in obtaining competitive insurance. For more information, visit www.antiqueboatamerica.com or call 800-675-4089. Antique Boat America is the world's LARGEST broker of Antique & Classic Boats Our Showroom: Located in the heart of the 1000 Islands Region, Clayton, New York. Our 20,000 square foot facility houses over 100 beautiful Antique & Classic boats, all offered for sale under one roof. Have you thought about financing your next classic? That's right: at Antique Boat America, you can buy, finance, and transport your next classic all in one place! We are proud to offer classic boat financing options through JJ Best Banc. Contact Mark Krzyzanowski: Mark@antiqueboatamerica.com or 800-675-4089 Talk to us today...Let's make a deal! Reference STOCK #31392 All that's missing is YOU in the Captain's chair! Call us now and let's deal on this great boat. We welcome pre-purchase inspection on every boat that we sell. We provide free pick up to and from the Watertown, NY Airport.Buyer is responsible for all shipping costs. We can help to arrange shipping worldwide at reasonable rates. These are pre-owned boats and sold as-is with no implied conditions or warranty.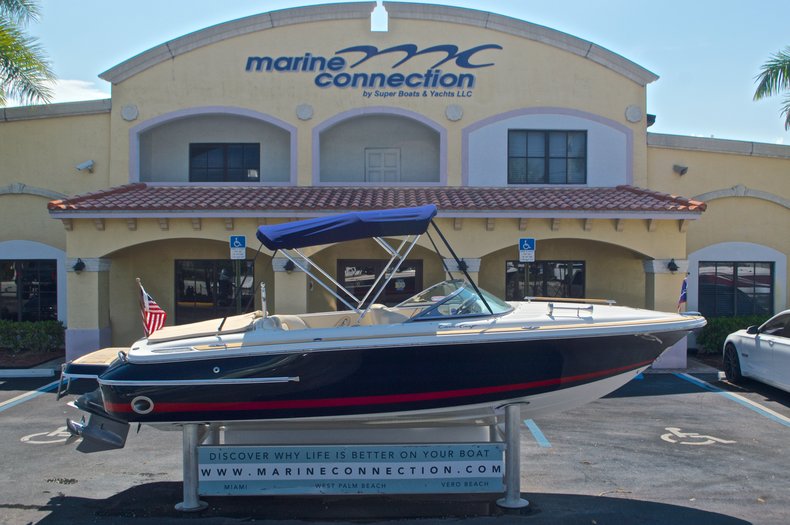 $32,900
West Palm Beach, Florida
Category Runabout Boats
Length 20'
Posted Over 1 Month
2007 Chris-Craft 20 Speedster, Marine Connection: South Florida's #1 Boat Dealer! Cobia, Hurricane, Sailfish Pathfinder, Sportsman, Bulls Bay, Rinker & Sweetwater new boats plus the largest selection of pre-owned boats. View full details and 50 photos of this boat on our website at: http://www.marineconnection.com/sales/inventory/boat/1917-2007-Chris-Craft-20+Speedster This is a very rare boat here She's very nimble and delivers swift acceleration to comfortable cruising speeds and will thrill you and your guests with speeds in excess of 50 mph. Iconic Chris Craft colors. Navy Blue with Red Boot Stripe. This Speedster is equipped with a 5.0 Volvo Penta engine rated at 270 horsepower, it has the snap in carpet, bimini top, sun pad cushion, bow anchor locker, full snap-in boat cover and inlaid teak swim platform. The boat is in LIKE NEW condition. With 5.0- liter displacement and eight cylinders, this engine delivers loads of torque and power across the entire speed range. Engine currently has only 182 hours on it. Marine Connection works closely with a number of leading marine lenders to offer you competitive rates, flexible financing options, a convenient application process, and prompt credit approvals. Our experienced and dedicated in-house financing team will work with you to help you accomplish your dream of boat ownership. Current Financing Promotion: 5.99% APR for 144-240 months on eligible boat purchases, for qualified customers only. We have been selling and exporting boats since 1987 and still hold true to our founding goal of providing the most pleasant and professional boat purchasing experience for thousands of satisfied customers.