Donzi Marine Boats 16 Classic Boats for sale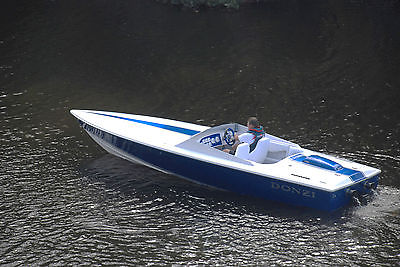 $84,500
Bradenton, Florida
Category High Performance Boats
Length 22.7
Posted Over 1 Month
This Donzi 22 is truly a one of a kind, custom built to my specifications, as the test driver of Donzi Marine. 2008 Donzi 22 Built by me and for me at the Donzi Factory. ILMOR V-10 710 HP Viper engine. Runs well over 100 MPH and accelerates like no other. Less than 16 hours total run time, never in salt water. This is the only 22 Donzi built using state of the art Vacuum bag construction and composite materials with a cored hull ! The hull is MUCH stronger than the stock version Many photos documenting the construction of this boat. Carbon fiber upholstery, military spec gauges with stepper motor technology. Pull-lock military switches. Full hydraulic steering with stainless tilting helm. GPS speedometer, stainless pop-up cleats, full custom cockpit carpeting. Mercury Marine integrated transom assembly (ITS) with built in steering. Mercury Marine Bravo XR outdrive with Imco -2 lower. Comes on a full custom aluminum trailer designed specifically for this boat. Too much to list!! Rest assured, this Donzi was built to the highest possible standard, and is dialed in. There is nothing else like it.

$15,900
Hartsville, South Carolina
Category -
Length -
Posted Over 1 Month
For more details visit: http://www.BoatsFSBO.com/96846 BOAT OWNER'S NOTES for 1968 DONZI Sweet 16 in VERY GOOD Condition, call boat owner Stephen @ 803-486-0384. OVERVIEW: The DONZI Sweet 16 was designed by Walt Walters and Jim Wynn, it wasa the masterpiece of Don Arnow and the first boat offered by his company, Donzi Marine, The boat went into production i mid 1964, It's 50 plus mph top speed feels like a whole lot more, DONZI currently offers this boat as the Classic 16 with a 260 hp 5.0 MPI MERCRUISER by special order only at a price of $79,000. FEATURES: NEW aluminum tandem trailer in very good condition, custom stainless steering wheel, tonneau cover, stainless lift pins bow and stern. ENGINE: 351 FORD WINDSOR V8 with 250hp and VOLVO out drive with tilt, approximately 280 hours on the engine DESCRIPTION: The boat has very nice red and white paint with a few scratches and wear spots, The 351 FORD WINDSOR runs great and is a lot of fun to drive. Always gets lots of looks. For further information about my boat call me @ 803-486-0384.
$13,500
Ann Arbor, Michigan
Category -
Length -
Posted Over 1 Month
0 0 1 270 1544 GM Freight 12 3 1811 14.0 Normal 0 false false false EN-US JA X-NONE For sale is 16 foot 1966 Donzi Ski Sporter or commonly known as "Sweet 16." Fresh restore. Number 339 to roll out of the factory and it was made on 7-18-1966 built by some guy named Bill, it has been heavily modified for some reason (very modified motor, monrose controls, hydro trim tabs,4ft long 6 inch tall stainless runners on the bottom of the hull, small aluminum fuel cell, ect). Its amazing how well Donzi builds there boats, and how unique they are. On every one of those boats pre 1972 up under the deck in the bow of the boat there is a 12 by 12 sheet of fiber glass with hand written in sharpie specs of what day it was made what hull number and who made it. Mine shows c16-339, 7-18-66, Bill, all hand written by this bill guy who built the boat, I thought that was pretty cool took that they time to do that on each boat. 1966 donzi sweet 16 with a holman moody 351, now for the motor.......it has been modified beyond recognition, the guy said he had it dynoed just under 500hp at 7500 rpms. All I know about it is it has eldrbrock performe RPM high rise intake manifold, 650 holley carb, eldeborck cam, performer heads, roller rocker valve train, high comp pistons, and I believe it to still be the Holman Moody Block but I dont know. The interior is all new with factory correct vinyl minus the steering wheel which I have not replaced yet. Seats were done by Donzi marine restoration society and is showcased on their website. The hull is clean and has been recently repainted with original color scheme. There are two 4 ft long 5in tall aluminum fins on the bottom of the boat near the stern. Everything on the boat works great (motor/drive/electrical/hydros/ect) this boat is fast I have seen 60 and it sounds great. Trailer is included and has also been restored. All new wiring and LED lights, new wood bunks, felt wrap and rollers. All new tires and rims. Year: 1966Make: DonziModel: Ski Sporter 16Length: 16' Hull Material: FiberglassTrailer: includedUse: Fresh Water onlyEngine Type: Holman Moody 351Fuel Type: GasFuel Capacity: 11-20 GallonsHull ID Number: 16/339 These boats are extremely rare and hard to come by in this condition. Especially with left hand driver. New vinyl cover with matching red stripe. Call or text for more information of photos. Asking $13,000 OBO Reson for selling is looking for a bigger boat. Will consider trades.