Hylas 44 Boats for sale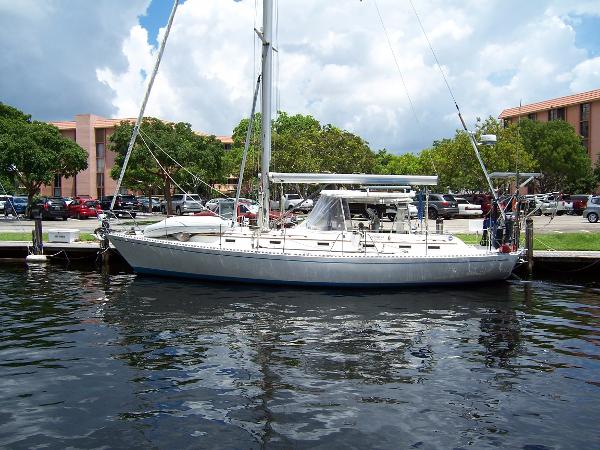 $149,900
Clearwater, Florida
Category -
Length 44'
Posted Over 1 Month
1987 Hylas 44 Center Cockpit Sloop The Hylas 44' is a high quality cruising yacht with lovely lines drawn with a graceful sheer by renowned German Frers, providing exceptional performance with the ability to take you anywhere in the World. Her fine fit and finish is a result of the exceptional quality of the Queen Long yard, where the Hylas is built, and features a graceful sheer with low center cockpit, wide side decks, a comfortable interior and excellent sailing performance. Her solid teak interior features highly detailed louvered locker fronts and dovetailed drawers, beautiful workmanship by her builder. Two spacious staterooms, a large salon with drop leaf table and a walk through galley provide exceptional interior living space - far larger than most of her contemporaries. The Hylas 44 can easily do the Intracoastal Waterway with its 63'5" mast clearance off the water. "Moon Taxi" is a perfect live-aboard or long term cruiser and ready for Caribbean cruising now.
$99,900
Marblehead, Massachusetts
Category -
Length -
Posted Over 1 Month
1985 CAL 44 The Cal 44 came from the pen of C. Raymond Hunt and Associates and was way ahead of its time with a design that included a very strong offshore hull with excellent sailing qualities, a very spacious cockpit with great views and controls for short handed sailing, a bright and airy interior with large main salon windows and two large cabins with heads that each have stall showers, and a walk off stern that was a revolution for its time.  This boat has been well maintained by her present owner and has been sailed extensively on the US Coast and the Bahamas.  Please call today for an appointment to see this luxurious cruising vessel.ICW capable rig and Bahamas draft!!!Easily cruises at 7+ knots.Offshore comfort for cruising couple. Great longterm liveaboard with full enclosure.Autopilot/Radar/Chartplotter GPS.GensetRemoveable dinghy davits.Great sail inventory.Step-off Stern and dedicated cockpit life-raft compartment.As part of listing the boat, seller commissioned an in-water sea trial and out-of-water survey in late 2013 (available). Surveyor's summary: "The vessel is in overall above average condition and reflects the care, numerous upgrades, enhancements, and the constant maintenance of a caring and knowledgeable owner." "FMV = $110,000 to $120,000."A recent, available laboratory analysis of oil samples from the engine, transmission, and gen set was totally satisfactory with no abnormal wear particles or contaminants. This boat compares with the Bristol 45.5, Alden 44, Nordic 44, Slocum 43, Norseman 447, Hylas 44, Brewer 44, Freedom 45...at a much better value!!!
$85,000
West Chester, Pennsylvania
Category -
Length -
Posted Over 1 Month
Best Offer Available1979 Peterson Formosa 46 Top Line InformationYear:1979VIN:PETERSONFORMOSA46Make:PetersonStock:FORMOSAModel:Formosa 46Condition:Pre-OwnedHull:FiberglassLength:46 ftExterior:WhiteInterior:TanEngine:1978 Other Isuzu Other 4 cyl 65 HPHours:2500Additional Photos* * * Click Photos to Enlarge * * ** * * Click Photos to Enlarge * * *DescriptionLOWEST PRICE OPPORTUNITY BLUEWATER OCEAN READY YACHT Thank you for taking a moment to visit our latest Luxury Sailing Yacht offering. This Peterson Formosa 46 is a special boat and is ready for Bluewater sails throughout the world. We obtained this boat when its captain owner of 30+ years was told he could not sail again. Up until this past season, this boat made regular journeys to Bermuda and throughout the Atlantic Northeast. She has been well maintained, updated where approopriate and still holds its original design elements and charm. We welcome a survey and sea trial to ensure it is the right boat for you. It comes with all the sails, and all are in great condition. There is also a BRAND NEW MAIN sail coming with the boat. The generator has been eliminated in favor of a 1 horsepower diesel engine powering an alternator charging large capacity batteries. This was done as the prvious owner didn't like the groan of a diesel generator running while enjoying air conditioned sleep. This system was just completed and is a state of the art system. What is a Peterson Formosa? The Kelly Peterson 46 and her smaller sister, the 44, have a place in the hearts of cruisers. One interested client I met said, Oh theres a Kelly here? in a soft, careful tone that let on a tender affection for the feminine name. Calling one Kelly feels like naming a lover. These are beautiful boats with nice overhangs, sweet sheer, and spectacular sailing skills. They were meant to sail about the best possible in all conditions. In the 1970s, Jack Kelly was a San Diego, California yacht broker. Seeing what all his clients were looking for, he decided to build the perfect boat. He joined with designer Doug Peterson famous from racing designs such as the Van De Stadts Storm Vogel. In 1976, they came up with a centercockpit performance cruiser instead of the aft cockpit Valiant 40. Kelly thought he might build 10, sell 9, and go cruising. Instead, he built about 200 44s in Taiwan over a six year production run. Formosa Yachts, another yard in Taiwan, started building an 2 extended variation of the 44 they called the 46 Formosa in the early 1980s. Jack Kelly extended the 44 into the 46 Kelly Peterson. This review will mostly deal with the 46-foot versions. These two are much more prized in the brokerage market. Overview A collaboration between designer Doug Peterson and yacht broker Jack Kelly birthed the Kelly Peterson 44, she was quite ahead of her time at her introduction in 1975. A long distance center-cockpit cruiser by design, she has earned a reputation for speedy passages. 180 miles days are not uncommon, with useful performance coming in all wind conditions and points of sail. Today the design is a classic, Kelly Petersons have traveled far and wide and are often seen in far flung locations the world over, especially in the South Pacific. Many have circumnavigated. History Legend has it Jack Kelly, a San Diego yacht broker in search of his ultimate cruising boat, approached yacht designer Doug Peterson who at the time was already starting to make his mark on the racing scene. The boat he drew for Kelly kicked off a narrative, not all that uncommon in the cruising boat industry. It reminds us of the tales behind theValiant 40 and the Alajuela 38 to name a couple. In this particular case the plan was to build ten boats, sell nine, keeping one to sail away. A couple of hundred hulls later, Kelly hadnt left for his voyage but had a thriving boat building business instead. First ImpressionsEssentially, the 44 Kelly Peterson was a double ender with her stern cut-off. This made a rather abrupt ending to a pleasing design. The 46-footers added a counter stern which improves her tremendously. The design has a low profile trunk cabin and sleek fast look. The bow has a moderate rake allowing a soft motion and clean entry. The beam is carried slightly aft of midships. Her sheer curves gently up forward giving 2 inches more of freeboard. Lovely teak frames the rail and handles. I really like her look. Underneath, Peterson was a racing designer, and his skeg hung rudder and long fin keel are fast. There is more wetted surface than you see these days. The keel is slightly greater than most look for at 64. Okay for Jack Kelly on the West Coast but unfortunate for the Bahamas. The beefy 2 spreader cutter rig has more than 1000 square feet of sail area. She is not undercanvased. ConstructionThe construction depends on the manufacturer, and it is hard to make generalizations. Her hull almost guaranteed to be the common Taiwan construction of mat and roving with polyester resin. The deck and trunk cabin are cored with plywood. The hull-deck joint is the common lip-tongue. Most 44s had iron internal ballast while the Queen Long 46s had ten thousand pounds of lead. I have heard of solid glass rudders. Configuration Probably the most noticeable feature of the Kelly Peterson 44 is a near vertical transom, the boat was designed as a double ender with her transom lopped off, making for an abrupt finish to an otherwise pleasing shape. The bow has a fine entry with a moderate rake and the maximum beam is carried slightly aft of midships. Below the waterline theres a fin keel cutaway at the forefoot and aft which reduces her wetted surface, good for both light-air performance and a nimble turning radius. The keel has a relatively long run which helps the boat to track well. A full-size molded-in skeg supports the rudder and provides good protection during the occasional grounding. Protected also is the prop, mounted in an aperture between the skeg and the rudder. One third of her light to moderate displacement of 30,000 pounds is encapsulated in her ballast slung low on her 6 4 keel. This combined with her clean bow entry helps her produce a nice soft motion. Above deck the on this center-cockpit boat is a low-profile cabin trunk which is both sleek and practical in that it aids a lower center of gravity. The cockpit is capaciously social with seating for 8 at a squeeze under anchor. The deck layout is good, with wide side decks bordered by 4 bulwarks and comfortingly high lifelines. Theres both bow and stern pulpits. A large cockpit locker provides for deck storage. Designed for Californian conditions, the Kelly Peterson 44 is driven by a beefy twin spreader cutter rig carrying more than 1000 square feet of canvas, ample for a boat of this displacement. Its also very manageable for a short-handed crew. The mast rises 60 feet above the waterline, keel-stepped, with 3/8 cap shrouds, headstay and backstay. The mainsail sheeting line is on the end of the 17-foot boom, which keeps it out of the cockpit area. The original boats had large mainsails going to the end of the boom, which produced too much weather helm, subsequent boats trimmed the length of the foot 30 inches. Layout [Kelly Peterson 44 Layout] Down below theres a useful three cabin layout (including the saloon) that serves well for both cruising and living aboard. The interior is bright and well ventilated from the three large hatches and twelve portlights. The forward cabin has a vee berth with full standing room and shares an enclosed head with shower aft. The saloon is a bright and open space featuring a straight settee to starboard. Opposite, the main cabin dinette to port has a two position table which converts to another double berth. Centered in the saloon, the keel stepped mast makes for a safe handhold when at sea. The offset companionway hatch allows for a well-equipped U-shaped galley sited to port and has large capacity refrigeration and a gimbaled stove. The double stainless steel sink is close to the centerline and works well on any tack. Starboard of the galley is a full sized, sit down chart table and electrical switch panel. There is an inside passageway to the aft cabin on starboard which provides access to a large engine room encompassing the remainder of the mid ships beam. The master stateroom aft includes a full double berth, and a private head. Additional access to the aft stateroom is offered through a second companionway from the cockpit. Access to the bilge and engine is excellent. Most boats had a 62hp Perkins 4-152 Diesel. Construction The boats were heavily constructed in hand-laid fiberglass matt and roving with polyester resin. Thicknesses range from nearly one inch at the bilges, tapering to 3/4 inches at the waterline and a half inch at the deck. The integral keel encapsulates 10,000 pounds of iron ballast packed with concrete. The rudder consists of a stainless-steel frame, packed with plywood and sheathed in fiberglass. The deck-to-hull joint is a lip-tongue arrangement with a wood brace inserted between the joint in some areas, then fiberglassed over. A teak cap rail was screwed into the wood brace. The plywood-cored decks were finished in non-skid gelcoat as standard but some were optionally fitted with teak decking. Overall construction is known to be solid, one story goes that a Kelly Peterson went aground on a reef in the South Pacific. The boat was pulled across the reef over a hundred feet before sailing away. Under Sail True to Doug Petersons reputation as a racing boat designer, the Kelly Peterson 44 is well known to make fast passages. The theoretical hull speed is 8.3 knots and owners report this is possible on all points of sail given the right conditions. 180 mile days are very attainable. She is well balanced and despite long rudder control lines reaching from her centre cockpit, the feedback at the helm is surprisingly good. The boat is relatively easy to single hand, even in a blow. And importantly, her motion at sea is comfortable. Specifications LOA: 43 10LWL: 38 8Beam: 1211Draft 6 4Bridge Clearance: 60Displacement: 30,000 lbs.Ballast: 10,000 lbs. (iron encapsulated)Sail Area: 1,011 sq.ft. Fuel: 100+ US Gal.Water: 132 US Gal.Engine: 65-hp Isuzu Diesel On Deck and Down BelowThe KP has two companion ways fore and aft to the master stateroom. The 46 even has an entrance through the portside combing. I could not find the key when showing a KP 46, so I opened this combing up. We jumped through to see the interior. It is a surprising entrance. The 46 both Formosa and KP have lengthened cockpits. They are centercockpit cutter rigged and great room, full wide decks. Down below, aft is a centerline queen. These are 2 staterooms like a Hylas 44 with the V-berth forward. A galley is portside no double walkthrough. And there is space on the KP 46 where that portside combing opens for a workroom. UnderwayShe has a long fin keel and skeg hung rudder. She sails fast and even well offshore reeling off 180 mile days in the trades with ease. She was meant to sail well in any wind. Her sheerline sharply increases forward making her a dryer than usual centercockpit. The 44 and later 46 was a popular charterboat used by Bill Stevens of Stevens Caribbean Charters in the 1980s. He would purchase them from Queen Long in Taiwan and commission them at his North Carolina yard. This relationship further developed with the legendary Stevens / Hylas 47. ConclusionKellys sell for up to $200,000 on the used market. There is usually a good selection of them as they produced many hulls. At our dealership we work very hard to accurately describe our vehicles through text descriptions and elaborate photos. When you purchase a pre-owned vehicle it is not a new vehicle. Any used vehicle can have normal wear and blemishes. Before placing a bid please read the descriptions thoroughly and view all of the pictures. We encourage you to contact us directly and welcome a pre-purchase inspection. Please contact our team directly for more details. Boat InformationSpecificationsBallast:Displacement:Sleep Capacity:Generator Hours:LOA:Draft:LWL:Beam:Keel:Rigging:10000330008345 ft78 in39.58 ft12.92 ftFixedSloop/CutterEngineFuel Type:Hours:Fuel Capacity:Warranty:Diesel250076-100 gallonsAS-IS No WarrantyTrailerYear:0 Included Standard EquipmentInteriorInterior in excellent conditionExteriorExterior in very good conditionBoatAir ConditioningBimini TopCompassDepth FinderGeneratorHeating SystemMicrowaveNavigation LightsRefrigeratorStereoTVToilet Hours of OperationMon: Tue: Wed: Thu: Fri: Sat: Sun: 9a - 6p,Evenings by appt 9a - 6p,Evenings by appt 9a - 6p,Evenings by appt 9a - 6p,Evenings by appt 9a - 6p,Evenings by appt 9a - 5p,Evenings by appt Closed Vehicle Values Travel We are located at 1281 King Road, Suite 400 in West Chester, Pennsylvania 19380. West Chester is a suburb of Philadelphia, PA and is located about 30 minutes from the Philadelphia International Airport (PHL) Our building is at the intersection of King Road and Phoenixville Pike. Please call us for directions or with any questions you may have. We look forward to your visit and would love to hear from you when you are coming so we may set a representative's time aside for your visit. That said, walk in's are always welcome as well.Vehicle History Insurance Transfer of Title and RiskWe insure the vehicles on our lot during the time we have them available for sale. Upon completion of the financial elements of the transaction (you paying us), we encourage you to insure the vehicle from that date forward. We bear NO RESPONSIBILITY for anything that happens to your vehicle once it is out of our control. Vehicles left at our facility for more than 3 days after payment will not be covered by our insurance unless previous arrangements have been made in writing prior to payment. WarrantyBalance of Factory WarrantyWe estimate factory warranty expiration dates using vehicle production dates and Carfax information. We are not responsible for factory warranty expiration dates, remaining warranty time, type, validity, or other information. If you want to be certain of the exact warranty expiration date, terms, validity, etc., please verify this information with a certified franchise dealer of the applicable car make. In the course of business, we try to match our risk with areas where we have control over our service level. We hope you understand this. TermsPayment Types:Certified Funds and Institutional FinancingFees:Our auctions have no hidden fees. All in State vehicles are subject to a $112 Documentary fee and out of State vehicles are subject to a $133 Documentary fee. This fee covers the paperwork involved in transferring a vehicle into your name. It applies to dealers, wholesalers, international transactions, priests, you get the gist. We also offer a 30 day transit tag for buyers from outside of PA. This tag is available at a cost to you of $55 and we will need a valid insurance card and driver's license to issue this tag. The last optional service is a Vehicle Prep Package. We offer a Deluxe Detail for $185 which includes the vehicle to be detailed professionally and a full tank of premium fuel when you pick it up (vehicles over 25 gallons may not apply). This may sound odd to you, but we often ship cars, in which case they are sent with very little fuel at the request of the shipping company. Terms:We require a $500 non-refundable deposit via Paypal within 24 hours of auctions close. This will hold the car for you and you exclusively for up to 7 days while you gather your funds or finalize your financing. We will refuse any other offers on the vehicle and will begin preparing the vehicle and documents for your delivery. Any financing arrangements are strictly between you and the lender and do not impact your contract to purchase the vehicle. The deposit is not refundable if you change your mind or if you cannot obtain financing on the vehicle. Should you need us to hold the car beyond the week, we ask for a deposit of $500 for every $10,000 of vehicle value. This will protect you as well as us. This deposit is the only liquidated damages you would be expected to forfeit should you fail to follow through with our contract to purchase the vehicle. Please call us at (610)644-6112 before bidding to inquire about any special arrangements outside of the terms listed above. TransportFor 50 years DAS has been the industry leader - providing quality vehicle relocation services.DAS owns and operates its own fleetDAS has dedicated customer service repsDAS provides online satellite trackingDAS provides choice of open or enclosed carriersDAS offers true Door-to-Door service optionsCall Today! 800.242.6413Texas Auto Shipping is a fully licensed vehicle shipping company that works with dealerships and direct customers Nationwide. We offer "door-to-door" low-cost shipping services using enclosed and open trailers.We work with several shipping companies and are quite pleased to assist you in getting quotes and arranging pickup of the vehicle. That said, any shipping contract is between you and the shipping company selected. Car Connections USA, Inc and its employees, directors and managers bear no resposibility for delays in shipping, damage to or loss of the vehicle once it is in the shippers control or any other liability related to the shipment of your vehicle. When the shipper picks the vehicle up at our facility, we will review the condition of the vehicle with the driver and will sign a Bill of Lading describing any deficiencies or cosmetic blemishes noted during our walkaround. Many shippers try to protect their liability by marking the Bill of Lading as though the car has hundreds of imperfections. We will not allow this to happen. We encourage you to examine the vehicle closely upon its arrival and to take up any concerns about damage or cosmetic imperfections at the time of arrival BEFORE SIGNING THE BILL OF LADING. Once you sign the Bill of Lading, the shipper is realeased from liability and you are on your own. Should you find surprise damage and see that it is on the Bill of Lading, please contact us promptly and email us the Bill of Lading. We will compare it to our copy and notify you of any discrepancies. Some shippers damage a vehicle and simply document the damage on the Bill of Lading as though it existed at the time they picked it up. We describe our vehicles and find it VERY unlikely that you would find a surprise upon arrival. About Us Car Connections USA, Inc was founded in 2005 by Dave Coughlin. Car Connections USA, Inc was founded in an effort to fix much of what we believe is wrong with the car industry. Dave graduated from the Wharton School of Business at The University of Pennsylvania in 1996. After graduation, Dave spent 6 years working in Public Accounting and Consulting for PricewaterhouseCoopers,LLP. A Word From Our Founder: During my tenure at PwC, people would often ask me to help them find, buy or sell cars. It frustrated me to no end to have only limited ability to help people negotiate. Frankly, I was disgusted by the lack of knowledge and professionalism in the automobile industry. In 2002, I resigned my position with PwC to chase my dream in the automobile industry. I committed all of my resources to building an automobile business based upon knowledge, integrity and value. Today, our Dealership provides these three factors to our clients. We offer you our knowledge at no cost. If you have a question about a car you own or are considering buying, we encourage you to contact us for advice. We offer integrity by giving honest advice and honest descriptions of the cars we sell. If you ask us to compare one of our cars and another one you're considering, we will give you accurate data about both cars to help you decide upon the right one. Value is offered in our low prices. We sell our cars consistently for thousands below franchise dealer prices. How much are you willing to pay for marble floors and fancy showrooms? We operate on a low overhead model that enables us to sell cars with minimal markup. We know your time is valuable and we appreciate your taking time to learn more about our organization. Please feel free to contact us with any questions you might have. We are looking forward to making your next car buying experience a positive one! Car Connections USA1281 King Road, Suite 400West Chester, Pennsylvania 19380 ©2003-2014AutoRevo- All Rights Reserved Auction counter powered byAutoRevo Dealer Websites and eBay Templates Powered by AutoRevo