Marquis 40 Sport Coupe Boats for sale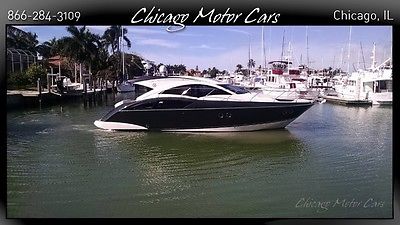 $389,000
West Chicago, Illinois
Category Cruiser Motorcycles
Length -
Posted Over 1 Month
Photo Viewer 2008 Marquis 40' Sport Coupe 2008 Marquis 40' Sport Coupe VIEW OTHER AUCTIONS ASK SELLER QUESTION Vital Information Year Make Model Mileage 2008 Marquis 40' Sport Coupe 478 Exterior Interior Stock # VIN black tan 34A808 CDRU3034A808 Engine Volvo IPS 600 View All Photos Description 2008 Marquis 40' Sport Coupe 2008 Marquis 40' Sport CoupeBlack Accent Exterior over Tan Interior *LITERALLY LIKE BRAND NEW! EXCELLENT CONDITION!*LOW HOURS!:FACTORY MARQUIS OPTIONS INCLUDE: Volvo IPS Series 600 Engine Oil Change System Cockpit Control For IPS Drives Gen-13.0KW Kohler Diesel Cable master For Shore Power Overboard Discharge Sys. Fresh & Seawater Wash down Passarelle Autopilot No Electronics Package Spare Propeller Spare Shaft Std Freedom 800 Lo Pro Package 790 Powered Sun Roof Sun Roof Shade Cockpit Table Exterior Upgrade Package Port Cockpit Icemaker Stbd Cockpit Refer Foredeck Sun pad Teak Decking-Cockpit Stern Capstan Winch Underwater Lighting Stone Grey Paint Std Black Bottom Paint Palladium Zebrano Wood Interior ZFINISH Decorator Pillows Std 26" LCD TV & DVD Premium Stereo Package CD Central Vacuum System Std Air Conditioning 2 Burner Electric Ceran Marquis Crystal Glasses 20" Master Strm TV & DVD Master Stateroom Stereo Master Stateroom Safe 15" Second Strm TV & DVD VIP Stateroom Stereo Head Compartment Shower Sail away Package Shrink Wrap :MARQUIS HISTORY: *Absolutely Excellent Condition Throughout! *ONE OWNER! FOLLOW US ONLINE! Follow us on Facebook Follow us on YouTube Follow us on Instagram Follow us on Twitter **********************************************************We Can Assist You In Shipping Your Vehicle Around The Globe!!CALL US TOLL FREE AT1-866-284-3109**FOR INTERNATIONAL CALLS USE**1-630-221-1800**FREE AIRPORT PICKUPS****2004-2016 EBAY MOTORS TOP SELLER AWARD**100% CHICAGOMOTORCARS.COM QUALITY GUARANTEE!!100% CUSTOMER SATISFACTION!!100% NO EXCUSES!!100% NO STORIES!!100% HASSLE FREE!!JUST ONE LOW PRICE FOR AN OUTSTANDING CAR!! Here at Chicago Motor Cars, we make every effort to ensure that our vehicle will exceed the expectation of the most demanding buyers. Each vehicle is hand-selected by our expert purchasing staff, then handed over to our reconditioning team to bring the car as close to new as is humanly possible. Our goal is to offer the most exceptional pre-owned vehicles in the marketplace at unbeatable prices!Please remember, every one of our cars has been enjoyed by their original owners, and these are not factory-new cars. This means they have actually been driven, and regardless of the level of care, every car will exhibit some wear-and-tear. Our vehicles are advertised with the current mileage at the time of listing, so mileage at the time of sale may vary due to test drives, transportation for reconditioning, etc. We go above and beyond to be as accurate as possible in our listings and descriptions, but remember, we are still human just like you. Cars leave the factory with unattached accessories (i.e. floor mats, extra keys, owners manuals, headsets, remotes, etc), and while it would be ideal to have all original accessories included with every car, this is not always the case. We will note in our listings any accessories that will be included, and provide a picture within the listing of all accessories. We do all within our power to avoid mistakes or misprints, so if you see any inaccuracy within our listing, we only ask that you bring this to our attention so that we can immediately rectify the information. We cannot be held responsible for any purely accidental inaccuracies. Since our ultimate goal is 100% customer satisfaction, we ask every customer to verify the listed equipment at the time of purchase with their salesperson. Please do not make any assumptions regarding condition or equipment. If you have any questions or concerns, call us at (630) 221-1800 and ask to speak with a sales manager to discuss. We also ask that that you not misinterpret anything in this disclaimer, as it is intended to be understood exactly as it is written. We are here to provide only the very best in quality and customer service! Contact Us Dealer Contact Chicago Motor Cars - East Location SALES DEPARTMENT [email protected] 630-221-1800 AutoCheck Chicago Motor Cars - East Location is a AutoCheck Certified dealer. Please call us for a FREE AutoCheck report for this vehicle. Secure Online Credit Application Applying for a vehicle loan online is one of the quickest and easiest application methods. Our secure online application form is easy to complete, all you need are a few personal and employment details. Get started now. Below are a few of the other vehicles currently available from Chicago Motor Cars - East Location CHICAGO MOTOR CARS Imagine a dealership with all the automobile solutions under one roof – that's what Chicago Motor Cars is determined to provide. With over nine years of experience in selling cars, we now have two facilities with a combined area of 50,000 sq ft located in two of the most centralized locations of Illinois. Our showrooms only have the most pristine, exotic and high end vehicles to match your travelling needs. We promote a "One-stop Shop" concept, which brings you everything you need to purchase, secure and maintain your vehicle without compromising on the quality of services and customer support being provided to you. Chicago Motor Cars is proud to present the first-of-its-kind dealership which offers everything from cars, bikes, consignments, financing options, and extended warranties, to auto detailing and additional services - all under one roof. Due to a positive customer response and a sizable customer base online, Chicago Motor Cars has been named the "best car dealership of Ebay", while we scored online sales revenues amounting to $900,000,000 from our inventory of high line bikes and cars. Our dealerships are specially focused to bring you an unparalleled consumer experience. We have streamlined our operations to make ourselves intensely customer-focused, and pride ourselves in providing a diversified range of solutions for purchasing and maintaining an automobile. We don't stop there – Chicago Motor Cars is about building relationships that last longer than most people expect. Our services help us clear out the preconceptions which people have in mind regarding car dealerships and buying pre-owned vehicles from a dealer. Our commitment to maintaining strict quality standards throughout has helped CMC secure customers who are now also loyal fans. We believe that a strict eye on quality is what differentiates the market leader from the rest. This is why CMC only brings the best possible car financing, detailing and maintenance solutions to its customers. With an experienced and knowledgeable sales staff, a full-time photography team, a topnotch detail crew and a host of other personnel at Chicago Motor Cars, we as a family work towards your complete satisfaction. Your trust is what matters the most to us, and we are certain we will convince you to buy the next vehicle from us if you pay us a visit. "We at Chicago Motor Cars are dedicated to make your car buying experience memorable. What I love about CMC is that it's a rapidly growing family where members keep coming back for more." Parin Shah, President Chicago Motor Cars Weak customer service by other dealerships has put auto dealers at the bottom of the list for many. We aim to change that – our sales staff is knowledgeable, friendly, welcoming and professional... exactly what you'd expect when considering the purchase of a high-end vehicle. We know your investment is a significant one, and therefore we dedicate ourselves to get you the car you always dreamed of at the best possible price from the market. Please check back regularly, as we have a constantly updated inventory line that you'll want to see. If there is any specific vehicle you would like us to get for you, feel free to contact us at (630) 221-1800. We look forward to hearing from you. Recommended Links Chicago Motor Cars - East Location recommends financing from Esurance, Travelocity and Priceline. Please click below to apply online. TERMS OF SALE OVERVIEW The following terms of sale apply to all of our online sales. Payment Methods Cash (In Person), Certified Check, Bank Transfers, or 3rd-Party Financing. All funds must be in US dollars only. Please be sure to have full payment and/or approved financing in place before making your final bid. We also Provide Financing Through many Lenders. Call us for more information. (630) 221-1800 Deposit The successful high bidder will submit a $500 deposit within 1 Day of the close of the auction to secure the vehicle. Payment of Balance Due The buyer agrees to pay remaining balance due (plus applicable fees and taxes) within 7 days of the close of the auction. All financial transactions must be completed before delivery of the vehicle. Fees and Taxes Applicable fees are; $169.27 Illinois Documentation fee, $15.00 for Thirty days drives away permit fee for out of state customer's, $299.00 detail and advertising fee for vehicle and $199.00 for motorcycles, Illinois Customer's will pay $95.00 Title fee and $101.00 for Illinois Plates, Sales tax (for Illinois residents and residents of tax reciprocal states with the state of Illinois). Please call or email to see if your state is reciprocal with IL. Out of state buyers are responsible for all state, county, city taxes and fees, as well as title/registration fees in the state that the vehicle will be registered. Shipping The buyer is responsible for all shipping charges. We will assist the buyer with finding a shipping company - Call us at (630) 221-1800 for more information. We assume no responsibility for damages incurred after leaving our premises. FOR CANADIAN BUYERS ONLY LINK http://www.oakwoodtransport.com/ ASK FOR BRAD SHAW. FOR EXPORT ONLY! DAS GLOBAL SHIPPING LINK.... WE HAVE SOLD OVER 1000'S OF CARS OVER SEA'S. www.dasglobalservices.com INCLUDING GERMANY, FRANCE, SPAIN, MONGOLIA, MEXICO, SOUTH AMERICA, ITALY, INDIA, AFRICA, NORWAY, RUSSIA, CHINA, PHILLIPINES, ICELAND, FINLAND, AUSTRALIA, LONDON, BALKANS, ETC... Buyer's Inspection Every effort has been made to accurately and fairly describe this vehicle to you. Chicago Motor Cars has tried to disclose all information known about this vehicle for auction. Please be advised that used vehicles will have typical scratches and dings inherent for their year and mechanical parts are subject to fail. Chicago Motor Cars welcomes and recommends a buyer's inspection. If you plan to have a buyers inspection, please make sure you inspect the vehicle prior to the auction ending. Buyer is responsible for any inspection charges and fees. Warranty Unless otherwise stated in the vehicle description, this vehicle is being sold "as is". No representations or warranties are made by seller, nor are any representations or warranties relied upon by bidders in making bids. Manufacturer's warranties may still apply. Extended Service Contracts are available. Please Contact our Finance Department at 630.221.1800 Ext:213 or [email protected] Notice to Bidders We reserve the right to cancel all bids and end an auction early should the vehicle no longer be available for sale. Bid Retractions Bid retractions are not allowed nor will be recognized within 12 hours of auctions end. Seller will not be obligated to sell in the event of a late retraction. Negative Feedback Bidders We do not allow bidding from negative feedback bidders. New bidders with zero feedback rating should email us or call us prior to bidding. Successful Bidder The winning bidder will be contacted via email after the auction closes or he/she must contact Chicago Motor Cars within 24 hours to proceed with payment and delivery arrangements. Non-Paying Bidder If the deposit is not received within 1 Day of the close of auction or if the balance is not paid in full within 7 days following the close of auction, we reserve the right to re-list the vehicle or sell the vehicle to the next highest bidder or another qualified buyer. Financing Information Let Chicago Motor Cars Finance department make your dream car reality today!!!! Let us arrange third party financing in one simple step to help you with any possible scenario! Let our finance manager's 14 years of luxury car funding experience help you as it helped thousands to get behind the wheel of the car of your dreams today! Some dealers can help you secure loans for transportation, I help you make your dreams come to life! I promise the word no is not in my dictionary! If you work with me no matter what we need to accomplish i will figure out a way! But please don't take my word for it! Try me! Submit an application and contact me today! Sam Salameh FINANCE DIRECTOR (630) 221-1800 Ext:213 [email protected] Just tell us about the vehicle of your choice, and let our financing professionals go to work for you. We will have all the information you need forwarded to you by fax or email within minutes. Our staff consists of proven professionals with proven track records, who have financed thousands of pre-owned luxury vehicles. Now is the time to pass on the savings to our customers interested in a new vehicle. PLEASE CALL (630) 221-1800 FOR FINANCING AND EXTENDED WARRANTIES. CHICAGO MOTOR CARS IS PROUD TO ANNOUNCE OUR YEARS OF RELATIONSHIPS WITH THE PREMIER LENDERS IN THE INDUSTRY WILL TRANSLATE TO SECURING THE RIGHT FINANCING FOR YOUR NEXT DREAM CAR! SO GIVE US THE PRIVILEGE TO BECOME YOUR TRUSTED SOURCE OF YOUR TOYS OR TRANSPORTATION AND I PROMISE WE WON'T LET YOU DOWN! Contact us today at 630-221-1800 for more information, or fill out our Online Credit Application to begin the pre-approval process today. Ad created by eCarList.com. Call 214-722-8200 to find out how eCarList can service your dealership.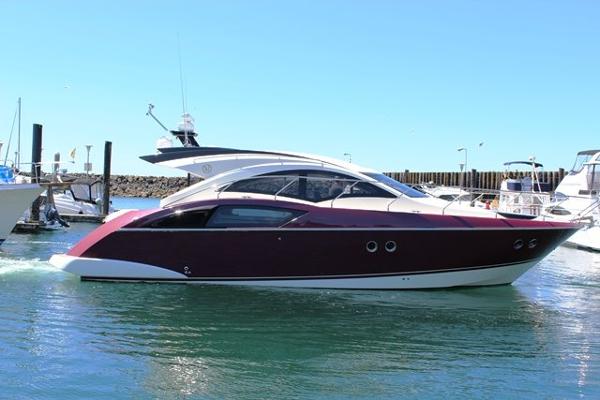 $369,000
Auburn, Washington
Category Motor Yachts
Length 44'
Posted Over 1 Month
2008 Marquis 420 Sport Coupe The 420 Sport Coupe is the combined result of the Italian Naval Architectural firm of Nuvolari-Lenard and American yacht manufacturer Marquis Yachts. This yacht has brought to life a combined vision of an open boat that not only looks amazing and is built to perfection but also provides its operator and passengers with thrilling performance. Built around Volvo's innovative IPS propulsion system the Marquis 420 Sport Coupe delivers an exhilarating ride at speeds in excess of 40 mph. The addition of the IPS Joystick allows the operator to confidently maneuver the yacht in tight quarters and while docking.The open-air salon and adjoining cockpit is designed for maximum access to the yacht's ocean side environment. The salon entrance doors open to create one large environment combining the salon with the yacht's cockpit. The innovative transom lounge easily glides aft with a push of a button to create more than 60 square feet of cockpit space. The yacht's salon features quality treatments such as exotic African Zebrano hardwood cabinetry with high gloss quality lacquered trim, wooden cabin sole and designer selected fixtures and appointments. The interior of the Marquis 420 Sport Coupe compares in materials, style, fixtures and quality to the interiors of mega and super yachts that are cruising the world. Twin Volvo IPS 500 Diesel Motors Pod Drives Joystick Docking 2nd Joystick Control Station 10KW Kohler Diesel Gen Set Raymarine 72 Mile HD Open Array Radar Raymarine Sonar Raymarine E 120 HD Touch Screen Raymarine GPS Hailer VHF Marine Radio Windless With Lewmar Anchor Mater Stateroom Queen Pedestal Mattress 20" TV In Master Stateroom Guest Stateroom With Separate Beds or Adjoining Vacuflush Head Enclosed Shower Large Bathroom 26" Flat Screen Recessed Within Portside Cabinetry LED Lights Throughout LED Under Water Lights Motorized Up/Down/Cocktail/Dining Table Large Motorized Sunroof Motorized Shades Three Reverse Cycle 13,500-BTU Heat and AC Units Outdoor Speaker System Outdoor Icemaker Expandable Motorized Lounge Area Bi Fold Entrance Doors Teak Decking SAT TV Microwave Convection Oven Dual Cooktop Under Counter Refrigeration New Bottom Paint New Zincs Balanced & Cleaned Props Full Yacht Detail Mains, Generator and Systems Serviced Large Hot Water System Much More Must See One Owner Trades Welcome 690 Hours Generator 1,150 Hours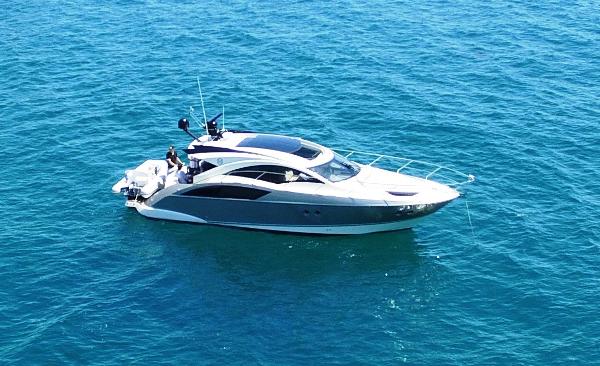 $449,900
Newport Beach, California
Category Powerboats
Length 42'
Posted Over 1 Month
2009 Marquis 420 Sport Coupe The Marquis 420 Sport Coupe built around Volvo's IPS propulsion system delivers an exhilarating ride at speeds in excess of 40 mph. Toro has an additional IPS Joystick in the cockpit to confidently maneuver the yacht in tight quarters and while docking. The open-air salon and the salon entrance doors open to create one large environment combining the salon with the yacht's cockpit. Toro's salon features quality treatments such as exotic African Zebrano hardwood cabinetry with high gloss quality lacquered trim, wooden cabin sole and designer selected fixtures and appointments. Toro was just update with New HD Raymarine Screens and Camera. Toro is also held in an LLC.