Norseman 400 Boats for sale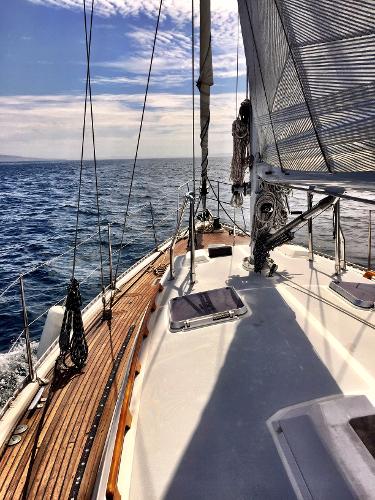 $169,000
Marina Del Rey, California
1987 Norseman 400 Designed by naval architect, Gary Grant, the Norseman 400 is a thoroughbred offshore cruiser that is capable of making fast, easy passages. It performs equally well in light or heavy air, and is strong enough to cross oceans. This boat is the rare 3-stateroom layout.  It has remained in the hands of one owner for nearly twenty years, and has benefited from improvements to the tune of around $150,000 in the last couple of years: New mast & rigging New fully-battened mainsail & 150% genoa New gelcoat on hull & deck-house New electronics New generator New rudder & steering New interior upholstery & bedding Watermaker Etc. etc...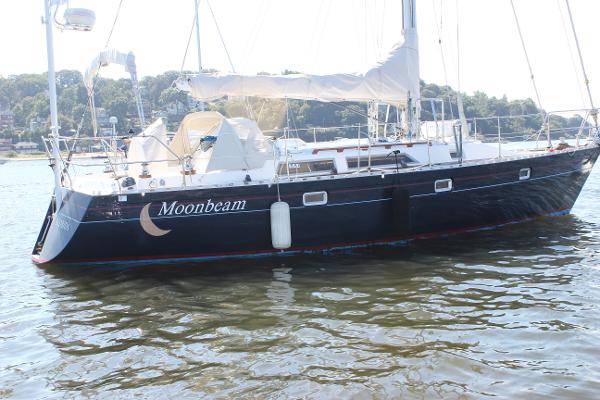 $79,900
Greenport, New York
1990 Norseman 4JH2E The Norseman 400 is a modern blue water cruiser built by the world famous Ta-Shing yard.  The construction and finish are excellent.  This design has a long waterline and ample beam, which combines for an extremely comfortable and roomy interior with tremendous storage capacity.  This yacht has the finest upgraded equipment for coastal blue-water and live-aboard cruising.  It is totally equipped and ready to go.  It is a proven passage maker having gone transatlantic and back in 2002 and numerous Bermuda and Caribbean 1500 rallies.  Price just reduced to sell this spring.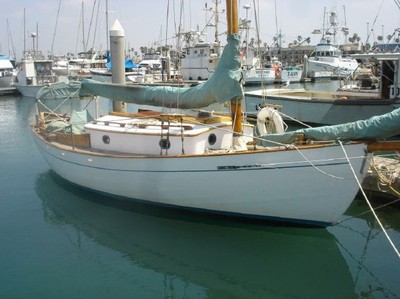 $15,000
Port Hueneme, California
Category -
Length -
Posted Over 1 Month
1938 Hull #1 24' 6" Typhoon Wooden Sailboat Designed by Naval Architect Winthrop Warner / Built by Whitaker Marine This is Hull #1 documented as "Typhoon". She is a beautiful example of a compact, full keel, blue water yacht. Her distinctive lines and fine workmanship is evident throughout. Typhoon was restored. She yearns for an owner who can fully appreciate her legacy, with a strong desire to sail her often and continue to giver her TLC as she needs it! Specs 1938 Winthrop Warner 24' 6" Wooden Sloop Sailboat - recently restored Boat Name: Typhoon (Documented, same name as plans) Hull Year: 1938 Hull#: 1 (The first, the original and the construction was overseen by Winthrop Warner) Manufacturer: Whitaker Marine Company (East Hartford Conneticut.) Model: Typhoon Length 24' 6" Feet * Lying In Oxnard , California * Hull Material: Stem White Oak, Double Planked w/ Philipine Mahogany Wood Fiberglass + Epoxy Glue Barrier * Engine/Fuel Type: Single Diesel (Rebuilt < 200 hrs.) Additional Specs, Equipment and Information: Builder/Designer Builder: Winthrop Warner (Naval Architect) Dimensions LOA: 24' 6" LWL: 20' 4? Beam: 9' (Tip to Tip 33' 6" - Boomkin to Bowsprit) Displacement: 11,500 lbs Draft: 4' 10? Bridge Clearance: 5'5" Ballast: 3,500 lbs (Iron Keel) Engines Engine(s): Yanmar Engine(s) HP: 30 Engine Model: 3GM30F Hours: Est.140 Cruising Speed: 5 kts Recently rebuilt. $6000+ invested. No expense spared. Injectors, fuel pump, crank turned, professional complete assembly all new Yanmar parts! All receipts on boat Mechanical Bilge Pump: Manual Urchin & Electric Rule 1500 w/ float switch Steering - Wooden Wheel Worm Gear Fuel System Fuel: 25 Gallons Diesel (Tin Lined Copper) Shut-off valves under lazerette. Single Racor Fuel Filter. Marine Grade Fuel Hoses. Cabin Sole Solid Teak, professionally installed in 2005. Galley Fuel Shipmate Wood, Charcoal. Stove w/ Alcohol Adapter is not included in sale. No dinghy included. Fresh Water System Water: 15 gallons (Copper) Manual Original Bronze Sink Hand Pump. Bronze Seacocks. Sanitation System Toilet Jabsco, discharge for overboard . Shower / Hanging Wet Locker with with manual overboard pump. (5' headroom) Accommodations The interior is very spacious for a boat this size due to her generous 9' beam. My wife and I have found her to be a comfortable cruiser for both costal and offshore adventures. She has an impressive amount of storage and we recently purchased a brand new Shipmate wood stove which includes a bronze alcohol burner to bring her back to her original glory. Typhoon features a traditional yacht interior, white paint and varnished Mahogany througout. Her sole is soild teak She also has ample ventilation. * Sleeps 4 in 3 berths * Bronze opening ports - (6) * Cockpit cushions (blue) Galley Equipment Galley is located on the port side and is offers ample space for serious chefs. * Large Icebox * Original Bronze Handpumps (working perfectly) * Stainless Steel sink Electronics * Yanmar Engine Instrument gauges Electrical Battery Switch. Batteries: House: (2) 12v Group 27 AGM (100 Amp hours each 200 total) Engine: (1) 550 Cranking Amp Lead Acid Starter Charger: ProTech 1220i 20amp Xantrex Link Pro Battery Monitor Horizon VHF Radio Control Panel: Perko12v DC OCR LED Mastlight w/ strobe and photo diode ABYC Approved Wiring Deck Hardware and Rigging Sloop rigged double spreader New 1×19 Stainless standing rigging w/ New Nav-Tec Norseman SS end fittings and bronze turnbuckles Bronze Chainplates The deck is teak w/ marine plywood which was replaced. Solid Fir spars (varnished) 20# CQR Anchor + 15' 5/16" Chain & 250' 3/4" Line Jib Sheet Track Winches: 3 Merriman Bronze Mahogany fordeck and lazarette hatches; sliding Mahogany companionway hatch Lifeline Stanchion sockets Bronze bolted to deck & bulwarks Sails (376 Sq Ft.) * Working Jib - Good * Yankee - Condition Good * Mainsail - Condition Good *All Recently Professionall Repaired Photos *Shipmate Stove and heat shield not included in sale! *Shipmate Stove and heat shield not included in sale! Typhoon and the people we met treated us like royalty, rolling out the Red Carpet. Major 86's Restoration She had a major restoration on her in 1986 and received new mahogany shear planks, mahogany transom planks, deck beams, teak over plywood deck, mahogany gunwale planks, reinstalled bowsprit, new dawg house, and interior. Detailed Condition Report Some time in early 2000's she was improperly stored inside a warehouse on the east coat for wintering, and it was to warm. She showed signs of plank separation as would be expected. At that point a decision was made (not by me, some other owner?) to lay a fiberglass sheath over the planks. I don't know why they didn't simply repack the planks and float her. Important: I drilled a new thru hole for the Bronze Depth transducer in 2007 and the wood was perfect. No water damage, no sogginess, no mold it was like brand new wood. I have never had a problem with her, and amazingly enough she is drier than the newer plastic boat I own. If you wanted to, you could remove the fiberglass barrier which was attached with Epoxy glue and restore her original wood planking finish. I considered it myself, but never got around to it. Shipping If you decide to ship her, we can assist you in hauling the boat out, stepping the mast, securing all items and supervise her loading on a properly setup and permitted delivery truck. There would be 2 sets of costs which are not included in the auction! 1) The first set of costs are the boat yards. This includes the haul out fees, and crane fees required to load the boat on the truck, plus removal of the mast which requires a crane and one additional hired, qualified boat hand. Estimated $1200. 2) The second set of fees is for the Owner's agent to supervise and assist in the complete process. $600 The acutal hiring / contracting of the shipping company would be soley the buyer's responsibility. Those costs vary, but shipping it back to the East Coast will most likely cost about $5K when all is said and done. Survey If you require a survey with a haul out, the yard fees will be an estimate $400 for the first day, then additional fees for layaway days thereafter. Although if the surveyor is scheduled correctly, it shouldn't require more than one day. There will also be a $250 fee for the captain reuired to move the boat to the haulout ramp, and back. The cost of the surveyor can vary, estimated cost of at least $300 - $500. The whole proposition estimated $1000 -1200. Generally the buyer selects a surveyor to ensure there is no bias to the owner in the report. The survey is paid for by the potential buyer. Special Notes The Shipmate Wood Stove & Heat Shield are not inlcuded in the sale and the oil lamp featured in the pictures is not included. A simple inexpensive alcohol or propane stove can be installed if you desire. Sale & Payment Terms The boat is sold as is with not warranty, and all sales are final. We accept a bank check, cashiers check or cash. The deposit must be paid at the completion of the auction through Ebay via CC or PayPal. The final payment will be held until the payment clears. A personal check can take up to 14 business days. A cashier's check will now require a 3 day hold due to the massive fraud using them. Upon completion of payment clearance, we will issue the buyer the Federal Documentaion with our authorized notary required, via Fed Ex mailer. If our assistance is required to haul the boat, step the mast, and assist the truck driver, these fees can be included in the initial payment or you can wait until after you receive the Federal Title Docs, and then issue another payment to cover these costs. All yard fees are to be paid directly to them. Our preferred yard is Channel Islands Boat Yard. They have pulled Typhoon many times, and are the cheapest, closest yard in town. Slip Fees The boat is currently on a county slip in Oxnard. It is possible they might allow it to be transfered to the new owner, but no guarantee. You will have to fill out all the appropriate applications, etc. The current slip rent is $372 per month. We can assist you and leave it under our name, if you continue to make the additional monthly payments until you can successfully apply, or have the boat moved. If the sale occurs before the next month's payment is due, there is no charge to you until the next month's payment is required. We also pay $30 a month to have the bottom cleaned, and $20 per month to have the topside cleaned. You can continue paying this fee, or we can cancel it, it is up to you once the boat is yours.