Trophy W A 2502 Boats for sale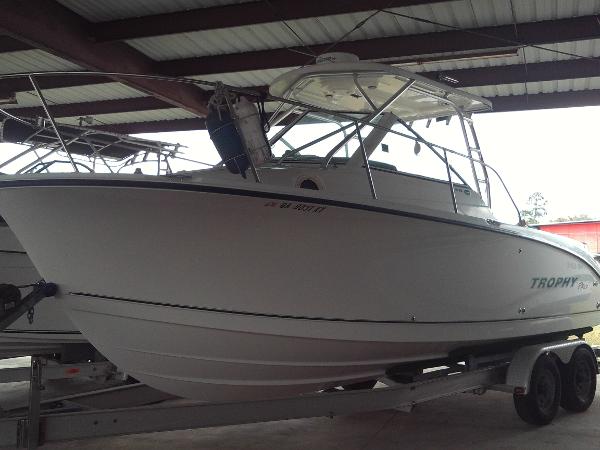 $37,990
Brunswick, Georgia
Category Saltwater Fishing Boats
Length 25'
Posted Over 1 Month
2006 Trophy 2502 W/A 2006 TROPHY 2502 WALKAROUND W/ 2006 MERCURY 225 HP FOUR STROKE ENGINE(163 HOURS) AND TANDEM AXLE ALUMINUM TRAILER. VERY CLEAN BOAT. LOADED HARD TOP T-TOP, NORTHSTAR GPS AND RADAR, AUTO PILOT, VHF RADIO, STEREO, SHORE POWER, CHINA HEAD, GALLEY W/ FRESH WATER SINK AND COOK TOP.
$31,900
De Land, Florida
Category Sport Fishing Boats
Length 25.0
Posted Over 1 Month
To view the showcase you need Flash 6 or higher. Click here to Install it now. --or-- View Other Listings for FloridaFamilyMarine 2006 TROPHY 2502 WALK AROUND OFFSHORE CUDDY FISHING BOAT W/ A MERCURY VERADO 250 HP MOTOR ONLY 401 HOURS WE ARE PROUD TO OFFER AN EXCELLENT RUNNING, 2006 MODEL TROPHY 2502 WALK AROUND POWERED BY A 250 HP MERCURY 4-STROKE VERADO MOTOR WITH ONLY 401 HOURS. THIS BOAT HAS SEVERAL FEATURES TO ENSURE YOUR TIME ON THE WATER IS BOTH RELAXING AND ENJOYABLE. BE SURE TO WATCH THE VIDEO ABOVE TO SEE AND HEAR JUST HOW WELL THIS BOAT PERFORMS ON THE WATER RUNNING 38 MPH AT 5,900 RPM'S. IF YOUR IN THE MARKET FOR A HIGH QUALITY WALK AROUND, YOU WILL NOTICE ON E-BAY, WE HAVE SEVERAL TO CHOOSE FROM. WE WELCOME INSPECTIONS AND ARE LOCATED AT 2460 OLD NEW YORK AVE., DELAND, FL 32720. OPEN MONDAY - SATURDAY FROM 8:30 - 5:30, IF WE CAN BE OF MORE ASSISTANCE FEEL FREE TO GIVE US A CALL AT 1.386.873.4610. WE DO RESERVE THE RIGHT TO END THIS LISTING EARLY IF THE BOAT SELLS PRIOR TO THE AUCTION'S END. WE WILL ATTEMPT TO WALK YOU THROUGH THE BOAT WITH A BRIEF DESCRIPTION OF THIS BEAUTY. FOR MORE DETAILS BE SURE TO INSPECT THE BOAT FOR YOURSELF. CONSOLE: * FULL INSTRUMENTATION * I-COM SHIP TO SHORE VHF RADIO * DANFORTH COMPASS * SONY AM/FM/CD STEREO W/ USB HOOKUP * BATTERY SWITCHES * LENCO TRIM TABS * POWER ASSIST STEERING * FULL ESINGLASS VINYL ENCLOSURE STORAGE: * BAIT-WELL * ANCHOR STORAGE * PORT AND STAR GUNNEL ROD STORAGE * REGULAR STORAGE CUDDY: * TOILET WITH WASTE STORAGE * BED CUSHIONS - UNDER SEAT STORAGE * OVERHEAD LIGHTS * WINDOWS * STOVE * REMOVABLE TABLE * SINK * ROD HOLDERS * 120 OUTLET (gfi) ADDITIONAL FEATURES: * 2 BANK CHARGER PRO MARINER ONBOARD BATTERY CHARGER * T-TOPS W/ ELECTRONICS BOX, SPOT LIGHTS, SPREADER LIGHT & ROCKET LAUNCHERS * REAR BOARDING LADDER * WALK THROUGH TRANSOM DOOR * SHOWER-DECK * FLOOR LIGHTS * FRESHWATER STORAGE- RAW AND FRESHWATER WASH-DOWN * STAINLESS STEEL PROP * NICE UPHOLSTERY * STAINLESS HANDRAIL ON BOW * SHORE POWER HOOK-UP * STAINLESS CUP HOLDERS * STAINLESS ROD HOLDERS CAPACITY: PEOPLE- 11, WEIGHT- 1750 LB OR 2800 W/ GEAR & MOTOR, HP- 400 MAX THIS BOAT WILL HAVE YOU WANTING TO SPEND MORE TIME ON THE WATER. IF YOUR IN THE MARKET FOR A NICE WALK AROUND BOAT, THIS ONE SHOULD BE CONSIDERED. ****THE POWER PLANT - A 250 HP 4-STROKE MERCURY VERADO MOTOR BY MERCURY WITH ONLY 401 HOURS. AS YOU CAN SEE IN THE VIDEO THIS MOTOR STARTS AT THE TURN OF A KEY AND RUNS OUT GREAT AT 38 MPH RUNNING 5,900 RPM'S. WE ARE NOT MERCURY VERADO EXPERTS... SO WE HAD THE LOCAL VERADO DEALER GO THROUGH THE ENGINE AND THE RESULTS WERE IMPRESSIVE. SHE HAS EXCELLENT COMPRESSION ( 190, 190, 190, 190, 190 AND 190 PSI). THESE ENGINES ARE SO ADVANCED, THE ENGINE'S ON-BOARD COMPUTER STORES THE COMPLETE RUN HISTORY SINCE NEW. SHE HAS A TOTAL OF 401.8 HOURS AND THE BRAKE-DOWN IS AS FOLLOWS: 0 - 749 RPM'S 108 .1 HOURS, 750 - 1,499 RPM'S 126 HOURS, 1,500 - 2,999 RPM'S 55 .7 HOURS, 3,000 - 3,999 RPM'S 14 .8 HOURS, 4,000 - 4,499 RPM'S 51 .6 HOURS, 4,500 - 4,999 RPM'S 34 .8 HOURS, 5,000 - 5,499 RPM'S 9 .8 HOURS, 5,500 - 6,249 RPM'S 1 HOUR. AS YOU CAN SEE BY THE BRAKE-DOWN, THIS ENGINE HAS NOT BEEN RUN HARD AND OVER HALF OF THE TOTAL HOURS ARE BELOW 1,500 RPM'S. THIS POWER HOUSE COMES EQUIPPED WITH FUEL INJECTION, STAINLESS STEEL PROP ALONG WITH TILT AND TRIM. WE ALWAYS RECOMMEND SERVICING THE MOTORS. YOU CAN EITHER COMPLETE THE ENGINE'S SERVICE YOURSELF OR CONSULT WITH OUR SERVICE DEPARTMENT AND THEY WILL BE HAPPY TO ASSIST FOR A REASONABLE FEE. ****THE TRAILER - MANUFACTURED IN AUGUST OF 2005 THIS KARAVAN GALVANIZED TANDEM AXLE TRAILER IS INCLUDED WITH THE SALE PRICE. THIS TRAILER WORKS GREAT PULLING THE BOAT TO AND FROM THE WATER WITH NO PROBLEMS. AS EXPECTED, THE LIGHTS WORK AND TRAILER TIE DOWN STRAPS ARE INCLUDED. THIS TRAILER IS EQUIPPED WITH DRUM BRAKES HOWEVER, THEY ARE NOT IN WORKING ORDER AND WILL NEED TO BE REPLACED. YOU WILL BE HAPPY TO KNOW WE HAVE ALREADY INSPECTED THE TIRES AND WHEEL BEARINGS IN AN EFFORT TO PROVIDE A SAFE AND EVENT FREE RETURN TRIP HOME. A QUICK NOTE, THE TRAILERS IDENTIFICATION DECAL IS FADED.. IF YOU RESIDE IN A STATE THAT TITLES TRAILERS WE WILL HAVE TO HAVE A NEW VIN NUMBER ASSIGNED. A NEW VIN NUMBER WILL NOT WORK GOING INTO CANADA... ****CONDITION - PLEASE VIEW THE PHOTOS, WATCH THE VIDEO AND READ THE DESCRIPTION... THE BOAT IS IN GREAT CONDITION FOR THE YEAR AND RUNS LIKE A DREAM. SHE IS HOWEVER, A USED BOAT AND A FEW MINOR SCUFFS AND SCRATCHES SHOULD BE EXPECTED. ALL OF THE LIGHTS, PUMPS AND GAUGES HAVE BEEN TESTED AND WORK. IF WE CAN BE OF MORE ASSISTANCE FEEL FREE TO WRITE OR CALL US AT 1.386.873.4610. See my other listings for more great items! WINNING BIDDER MUST ESTABLISH CONTACT WITHIN 2 DAYS OF AUCTION'S END TIME AND SEND A $500.00 NON-REFUNDABLE DEPOSIT WITHIN FOUR DAYS AFTER NOTIFICATION OF WINNING, BY MONEY ORDER OR CASHIERS CHECK OR PAYPAL. PAYMENT - FULL PAYMENT IS DUE WITHIN 7 DAYS OF THE AUCTION'S END UNLESS PRIOR ARRANGEMENTS HAVE BEEN MADE. FINAL PAYMENT CAN BE MADE WITH CASHIERS CHECK, MONEY ORDER, BANK WIRE OR CASH IN HAND AT THE TIME OF COLLECTION. WE DO NOT ACCEPT PAYPAL FOR THE FINAL PAYMENT. WE DO NOT ACCEPT CREDIT CARDS OR THIRD PARTY CHECKS... CHECKS CAN NOT BE MADE PAYABLE TO THE SELLER AND THE BUYER AS OUR BANK WILL NOT ACCEPT THEM. COLLECTION - WE ARE AVAILABLE DURING THE WEEK MONDAY - SATURDAY FOR COLLECTION. WE UNDERSTAND MANY PEOPLE HAVE OFF ON THE WEEKENDS. IF A SUNDAY COLLECTION IS REQUIRED, I WILL HAVE TO CHARGE AN ADDITIONAL $75.00 TO COMPENSATE OUR EMPLOYEES FOR THEIR TIME. PLEASE UNDERSTAND NONE OF US WANT TO WORK ON OUR DAYS OFF. IT WILL BE THE BUYERS RESPONSIBILITY TO COLLECT THE BOAT OR MAKE THE NECESSARY ARRANGEMENTS TO HAVE THE BOAT SHIPPED. WARRANTY - THIS BOAT IS BEING SOLD AS/IS WITH NO WARRANTY EITHER EXPRESSED OR IMPLIED. ***** WE WILL GUARANTEE THE BOAT TO BE AS DESCRIBED AND RUN GREAT WHEN YOU ARRIVE FOR COLLECTION. STORAGE - AS LONG AS THE TERMS FOR PAYMENT ARE MET WE WILL BE HAPPY TO STORE THE BOAT FOR UP TO 20 DAYS FREE OF CHARGE. ADDITIONAL STORAGE WILL BE AT A RATE OF $25.00 PER WEEK. TAXES - FLORIDA RESIDENTS ARE SUBJECT TO SALES TAX. ATTENTION ALL OUT OF STATE USA BUYERS- IF YOU COLLECT YOUR BOAT, WE ARE RESPONSIBLE TO COLLECT STATE SALES TAX ON THE VALUE OF THE TRAILER. THE ONLY EXCEPTIONS IS A DEALER TO DEALER SALE WITH A COPY OF YOUR TAX IDENTIFICATION CERTIFICATE ON FILE OR IF THE BOAT IS SHIPPED. THE STATE OF FLORIDA REQUIRES US TO COLLECT A COPY OF THE SHIPPING COMPANIES PAPERWORK WITH REGARDS TO THE DELIVERY. YOU WILL ALSO BE REQUIRED TO SIGN AN AFFIDAVIT STATING YOU WILL REGISTER AND PAY THE NECESSARY TAXES IN YOUR STATE WITHIN 30 DAYS AND PRIOR TO USING THE BOAT IN THE STATE OF FLORIDA. AND THE BUYERS UNDERSTANDS THEY HAVE 30 DAYS TO REGISTER AND PAY APPLICABLE SALES TAX TO THEIR STATE. ADDITIONAL FEES - WE DO CHARGE A DEALER FEE OF $169.00 TO COVER MISC. EXPENSES. WE BELIEVE THIS FEE TO BE VERY FAIR AS MOST DEALERS CHARGE BETWEEN $400 - $600. PLEASE UNDERSTAND THIS FEE IS NOT AN EFFORT TO MAKE ADDITIONAL MONEY BUT TO COVER PAPERWORK AND POSTAGE FEES, PROCESSING, ETC.... SPARE TIRES - EVERY BOAT WE SELL WITH HAVE EITHER NEW OR GREAT CONDITION USED TIRES... IF THE UNIT YOU ARE BIDDING ON DOES NOT INCLUDE A SPARE TIRE, WE HAVE BOTH NEW AND USED TIRES AVAILABLE FOR AN ADDITIONAL FEE. FEEL FREE TO WRITE FOR MORE DETAILS. ALMOST 1/3 OF OUR BOATS ARE COLLECTED BY SHIPPING COMPANIES. IF YOU ARE LOCATED INSIDE THE UNITED STATES, WE RECOMMEND USING THE WEBSITE WWW.USHIP.COM. THIS WEBSITE ALLOWS DIFFERENT SHIPPING COMPANIES TO MAKE BIDS FOR YOUR BUSINESS AND PRODUCES VERY FAVORABLE RESULTS. OVERSEAS CUSTOMERS - YOU ARE MORE THAN WELCOME TO CONTACT US FOR A SHIPPING QUOTE. IF YOU HAVE A COMPANY YOU HAVE USED IN THE PAST, WE WILL BE HAPPY TO WORK WITH YOUR COMPANY AND SUPPLY OVERALL MEASUREMENTS. txzj pxzj675 txzj42 txzj48 txzj72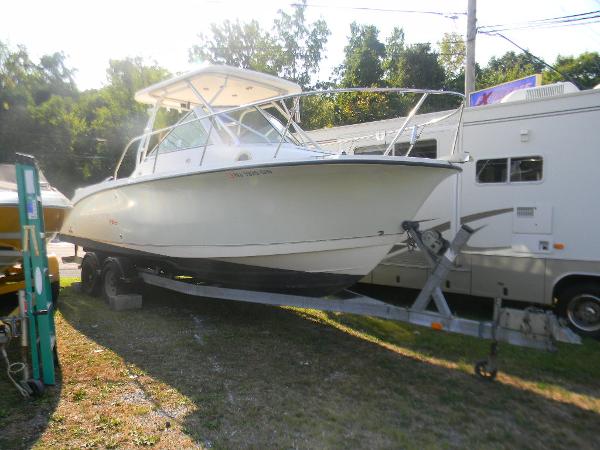 $29,900
New Windsor, New York
Category Powerboats
Length 25'
Posted Over 1 Month
2004 Trophy Pro 2502 Walkaround W/TWIN MERC 200 SALTWATER/HARDTOP/GPS/FISHFINDER/TRAILER/ ***  A WIDE BEAM WALKAROUND WITH LOTS OF COCKPIT SPACE AND LOTS OF CRUSING AND FISHING COMFORT. HIGHLIGHTS INCLUDE 28 GALLON AERATED LIVEWELL, TWO IN DECK FISH BOXES, WIDE SIDEDECKS, FULL CABIN WITH PRIVATE HEAD, ATTRACTIVE SEAFOAM GREEN HULL, FIBERGLASS HARDTOP HALF TOWER WITH ROCKET LAUNCHERS, SPREADER LIGHT, FOLDING REAR COCKPIT SEAT, STAINLESS SYTEEL PROPS, SHOREPOWER, GPS, FISHFINDER, VHF RADIO, FRESH WATR WASHDOWN, TRANSOM FISH LOCKER AND LIVEWELL, TANDEM AXEL TRAILER AND TWIN 200 MERCURY OUTBOARDS THAT WILL PUSH A TOP SPEED OF CLOSE TO 50 MPH. THE 20 DEGREE DEADRISE GIVE VERY STABILE RIDE AND GOOD SPEED.