Ultranautics Boats for sale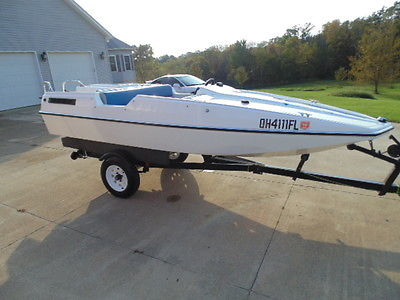 $2,750
Lakeville, Ohio
Category Jet Boats
Length 12.5 - 13 feet
Posted Over 1 Month
This is a 1991 Ultranautics Jetstar 1260. with a 60 hp 2cycle water cooled Suzuki motor, 130/130 compression across both cylinders. weighs about 615lbs. Everything works as it should except RPM gauge is stuck prob can rebuild it. Also has a Nice Depth/Fish Finder. Starts right up and runs great goes about 34 with a 175lb rider and about 27 when on plane with 3 people. I have replaced the battery,plugs,starter and fuel filter. the out drive has been torn down and all new seals,wear ring and impeller. Interior is immaculate No Tears and looks good carpet in fair to good condition.The Trailer has Brand New Rims and Tires. The original owner ordered this without a windshield but their are markings for drilling the holes if you want to put one on. I am the 3rd owner, have a Clean and Clear Title for the Boat and a Bill of Sale for Trailer. Their was a crack in the hull that was Fiber glassed and Gel coated. Their are NO Leaks At All. I have only seen about a cup of water when i take it out, prob from swimming all day. It runs Great and is in Real nice Condition to be as old as it is some Fading on Decals.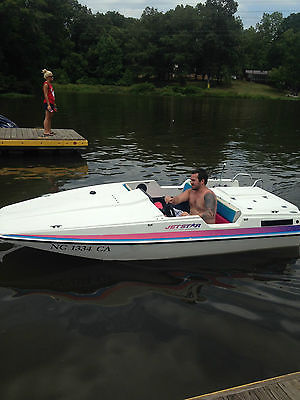 $1,200
Locust, North Carolina
Category -
Length 12.0
Posted Over 1 Month
One screw hole on latter on back stripped out. Missing windshield. Slow to get on plane, i'm thinking it is a wear ring. Compression was 125 and 128. Runs great, fires right up. Installed aftermarket radio and speakers. Runs about 30MPH. Great condition overall, floor is strong. Trailer lights are busted up, but still a nice trailer w/ surface rust. Very nice condition, perfect for a restore. I took it out several times this past summer with 0 issues and went from one end of the lake to the other. I just want a pontoon so I'm selling it. Title included. Original paper work and owners manual.