Universal Montego Boats for sale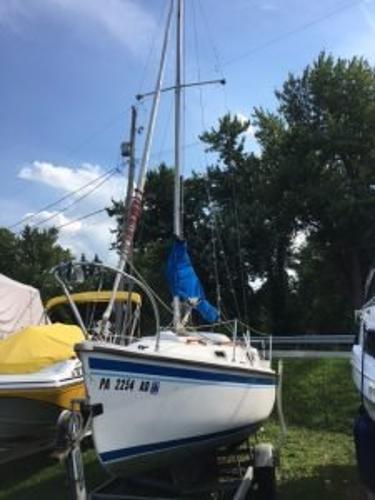 $1,995
Wrightsville, Pennsylvania
Category Daysailer Sailboats
Length 20'
Posted Over 1 Month
1983 Universal Marine Montego This Universal Marine Montego 20' Daysailer comes with a Johnson 9.9 HP motor and a Magic Tilt galvanized, single-axle trailer.  It's a great way to try out sailing for the first time!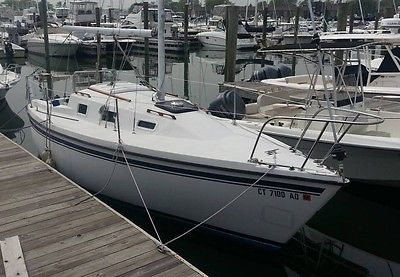 $2,399
Bridgeport, Connecticut
Category Cruiser Motorcycles
Length 25.0
Posted Over 1 Month
Here's the TLDR;6 HP 2 stroke outboard Yamaha, runs well, no issues.Roller furling but missing jibMain sail, good conditionBrand new marine battery20 gallon fresh water tankOrigo alcohol stovePorta-potty As a boater, I understand the need to know everything about a boat - so below is a thorough walkthrough. I bought this boat hoping to sail it south this winter - I tried, but discovered the hard way that I need a 30-odd foot vessel to make that trip safely.The original owner had it for a long time and took very good care of it. At 25', it has about 6 feet of headroom and is both comfortable to stay in but also just small enough to put on a trailer. Hull: This boat is solid as a rock. The hull and deck are in excellent condition - no transom spidering, little deck spidering, no signs of soft spots in the cored deck, the through-hulls and seacocks have been maintained and are in good condition. The through deck fittings are all in good order and there is no leakage through the deck in a rain. Sails: -Mainsail in good condition. I have sailed with this sail; it works well and points high. It has a little cosmetic imperfection but has no tears or structural issues. Mast track slides, battens, and grommets in good order. -The boat needs a jib. There is a Furlex roller furling unit (Furlex Type A MKII) installed and in good order that is ready to accept a roller furling jib with #5 luff tape. Or a hank-on jib could be bent on. Engine: 2-stroke 6hp Yamaha outboard - long shaft, on an adjustable transom mount. Runs very smoothly and quietly. 100:1 fuel:oil ratio. Drop down engine mount, throttle extension for easy use from cockpit.I think the manufacturing date is late 1980s or early 1990s. I am presently looking into the exact date. Interior: From bow to stern: V-berth with plenty of stowage below, Head with port-a-potty, sink, and medicine cabinet, Main salon with 2 berths/benches, fold-down table, storage under berths, shelving on each side,Galley with large ice box, slide-out double Origo alcohol stove, sink, dish storage, and counter space,Rear bilge accessible from cockpit- lots of stowage space.The previous owner did extensive work varnishing the teak and upholstering the walls and ceiling with carpetry. The cushions are in good condition with a few minor tears. Systems: -Brand new Sportsman marine battery - I bought this new in October as the one that came with the boat was flat. I have only used it very lightly (only for VHF and running lights) and it is sitting at full capacity.-Solar panel to recharge battery-Electrical system in good condition throughout boat - masthead VHF radio, speedometer, engine startup, interior lighting, electric heater, masthead and running lights (stbd. bulb needs replacement), connection to solar panel for battery charging-Refrigerator for shore power-Yamaha Fuel tank and extra gas can, gas line with bulb in good flexible condition with spare line also in good condition. Both filled with new gas/oil mix in October-Large water tank with connections to head and galley sinks (galley pump faucet needs replacement)-Deluxe port-a-potty - odorless system and easy removal. Through-hull and deck pumpout fittings are in place to install a proper head if desired (just need head, holding bladder, and septic lines) Gear: -Danforth anchor with lots of chain and long, good condition, strong line. I have slept overnight on this anchor.-Lots of spare 3 strand and double braided polyester line-Boat hooks, fenders, life sling-Shore power cable-Small library of classic sailing books-Multiple sets of nautical charts for Long Island Sound-Multiple sets of traditional course-plotting gear-Dry box, tools and lots of spare sailing parts-Boat cleaning, engine maintenance, and interior upholstery products-Fish Finder-Extra bilge pumps-Big set of Coast Guard passable PFDs-2 fire extinguishers Other items: -Aluminum mast, boom, gooseneck, and spreaders all in solid condition. There is some scuffing on the anodized layer. Standing rigging and chainplates mounted into the deck in good condition and vertically braced inside the boat.-The bottom has been dived on and cleaned regularly - thick paint job from a year ago is holding up excellently. No signs of blistering.-Rudder is a tiller control and has a tiller extension and a simple homemade autopilot system.-All deck fittings and running rigging present and accounted for - 2 jib winches and 1 halyard winch in good working order (port jib winch should get new bearings), traveller bar/car solid and working though needs new bearings. Jib tracks and cars in good condition, roller furling unit and extrusion in working order. The line and the blocks of the main halyard, jib halyard, spinnaker halyard, main sheet, vang, backstay, outhaul, downhaul, and reefing line are all in good condition. Please feel free to ask me any questions; I will check this listing daily.-Brian

$4,900
Greers Ferry, Arkansas
Category -
Length -
Posted Over 1 Month
Please call boat owner Ken at 501-238-2416. Great boat for the weekend, or to learn how to sail on. This model has a fixed keel. Replaced some of the standing rigging, and all of the running. The main hatch was missing when I got the boat, and I have mad a temp cover for it. Also the throttle on the johnson needs replaced. The boat sails well, and is fun to be on. Loads easy on the trailer, and get launch and be ready in 15 min. Great boat to lean on.