Watercraft Winterization Boats for sale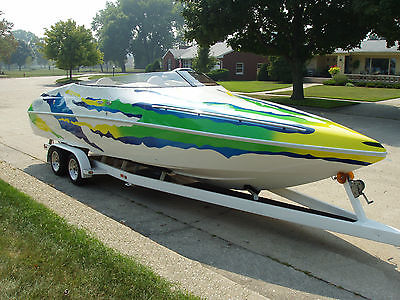 $31,900
Kenosha, Wisconsin
Normal 0 false false false MicrosoftInternetExplorer4 Up for "Buy It Now" or "Best Offer" purchase is a very unique, limited production performance boat that, when conceived and built, was far ahead of its time. In fact, the majority of the popular high performance offshore boats being produced today clearly display many of the design features and amenities introduced by, and/or incorporated into this boat – notably among them are the double-stepped hull with staggered strakes, air induction chines and a variable degree bottom. Purchased directly from Virage Performance Technologies, this was the first production Virage 265 hull to touch the water. Designed by, built specifically for and to the specifications of the Company's owner, for more than a year it graced the inside cover-fold of Hot Boat Magazine (two page ad shown), as well as Powerboat and other boating magazines as the advertising layout for the marketing and sales initiatives of the Company. It saw very limited use in demonstrating its unique features and performance capabilities to the prospective dealer network, the press, and a limited number of high-profile buyers. As such, it's loaded with all of the standard equipment (sales brochure shown) as well as MANY upgrades to increase performance, comfort and handling. Its fit, finish and attention to detail are of the highest quality. I purchased this boat "New" in January, 1998. Prior to shipping it was fitted with a new Teague Custom Marine–prepared TCM 509 package (740+ horsepower, 800 lb-ft torque – dyno sheet shown). This is the same as the power train that was initially in the boat and responsible for its remarkable test performance. Hot Boat featured THIS BOAT in its November/December, 1997 issue and noted the following: "The new Virage is …. a sweet-running performance boat without any detectable flaws or bad habits. Stability and drivability are excellent at all speeds; not a hint of porpoise or chine-walk." "… lit up the radar-gun digital image panel with numerals ranging between 84.7 and 85.1." "In the always important acceleration department … was not less impressive. Zero-to-30 mph times were in the 5.5-second range, while 0-to-60 mph was achieved in just under 13 seconds." Components of the ENGINE/DRIVE PACKAGE include: Teague Custom Marine TCM 509 Engine Package (MerCruiser 500HP Engine, Modified by Teague to 509 cubic inches with Upgraded Internals); andPolished B&M 250 Blower;Polished Super Chiller Intercooler / Fresh Water Sea Strainer;Dual Holley 750 Carburetors;Power Torque II Exhaust;Max Machine Worx High Performance Drive Upgrade (MerCruiser XR Drive Equivalent - 1.35 gear ratio) with Drive Shower;Stainless Steel 4-Blade Propeller By comparison, the standard engine package for this boat was a MerCruiser 7.4L MPI rated at 310 horsepower, coupled to a Bravo 1 drive. OTHER FEATURES of this boat include, but are not limited to: Variable-Degree Double-Stepped Hull w/Air-Induction Chines;Splash Graphics molded in gelcoat (nothing is painted externally on the boat) with Matching Interior;WPM External Steering;K-planes w/Indicators;Zero Effort Controls;Full Complement of Gaffrig/Virage Gauges;Micrologic GPS and Depth Finder;FlowScan Fuel Monitoring;Front Seat Electric Drop-out Bolsters;Clarion Stereo w/Disc Changer/Remote Controls, Dual 1080 Watt Water-Cooled Amps and Abundant Speakers;Freshwater Sink and Cooler;Sidebar Electronic 5-Station Beverage Dispenser;Cabin Ventilation Fans;Port-a-Potti (New - Never Used);Dimming Instrument and Cockpit/Cabin Lighting; Flush-Mounted Running Lights;Locking / Sliding Cabin Door;Abundant Open and Hidden Storage Compartments;Dual Batteries w/Isolator, On-Board 3-Stage Charger/Maintainer and Remote Terminal Connection;Automatic Halon Fire Suppression System;Telescoping Stern Light w/ Emergency SOS Beacon;Pop-Up Cleats and Ski Tow;Dual Electric Hatch Lifts;Custom Cockpit and Storage Covers. The Virage rides on a custom, tandem axle Hoss Trailer specifically designed for this boat. The goal was to provide a low-profile cradle (for ease of launch / retrieval, and for towing visibility aft) while retaining the 8'6" beam for both boat and trailer (in compliance with the most restrictive State laws). The trailer track measures 100.5 inches from sidewall to sidewall, and the overall length of the boat/trailer is just at 30 feet. Regarding weight, the manufacturers' specifications list the boat (including motor) at approximately 4200 lbs, and the trailer at 1200 lbs. With respect to fuel requirements, this boat is set up for and will run comfortably all day long on 92 Octane pump gas (though my personal preference has been to always feed it 100 Octane fuel, recognizing its performance and storage superiority). As one might expect, this engine/drive combination is capable of gulping fuel quite briskly rate when passing the majority of other watercraft on the lake – the FloScan shows approximately 32 – 34 gallons per hour at 70+ mph. Reduce the speed to a comfortable cruise (in the 35 – 40 mph range), however, and the consumption drops to approximately a third of that, at about 11 – 13 gallons per hour. The engine has never been exposed to ethanol fuel, and during the time that the boat wasn't in seasonal use, the fuel has been regularly drained and refreshed. Following its Drive upgrade, oil and fuel services, and annual professional "winterization" a few years ago, it was returned to its hangar and hasn't gotten its feet wet since. While I have owned this boat for a number of years since new, the low hours attest to the reality that my collection of fair-weather vehicles – cars, motorcycles, boat, etc. – far exceeds the availability of fair weather days here in the Midwest. Due to the typically slow onset of Spring / Summer weather, as well as a series of unplanned, personal commitments, I've finally come to the realization that this, again, will NOT be the Summer that I've waited for. The Virage needs a new home and, at the very low "Buy It Now" price for a boat of this stature, quality and condition, it's level of style and performance can be your's for a very small fraction of its cost of replacement. Cosmetically, the photos will attest to the condition of the vessel. The hull has seen less than 100 hours (fresh water only), and the engine approximately 70 hours. The original Bravo 1 drive has been replaced with a Max Machine Worx Hi-Performance Drive (to better handle the power and torque) with run-in time only. Stored in a private, heated aircraft hangar, it has been meticulously cared-for and professionally maintained since new. Finally, a couple of notes for the prospective buyer. The dual batteries in the boat were installed "as new" a couple of years ago primarily for storage (though they have been maintained by the on-board charger/maintainer and would probably serve the first season just fine). Additionally, as with any boat stored for even a season, the water pump impeller should be replaced (they take a "set" when sitting for any length of time and are routinely replaced every season or two at very minimal cost). Last, the trailer tires are dated. They appear to be fine (roadworthy, with no visible cracks, etc.), they remain fully inflated, and I would not hesitate to use them to trailer the boat locally or to transport the boat/trailer on a flatbed trailer. However, it would be recommended that they be replaced prior to any long distance on-road towing. If the boat is purchased using the "Buy It Now" feature, I will install four new trailer tires (so that you or your shipper can pick up and hit the road with confidence immediately), and will add a complement of boating accessories including a Fortress anchor and line; dock line and docking bumpers; new, quality brand name slalom and pair of water skis with tow rope; and a variety of maintenance necessities including a Winterizing kit. I have many other detailed photographs available. Please don't hesitate to contact me via email, or by phone (daytime and early evening) with any questions - John @ (262) seven-0-five-five-2-2-five. If I am unavailable, please leave your name, phone number and/or email address and I will return your call or message as soon as possible. SINCE THIS BOAT IS BEING OFFERED FOR SALE LOCALLY, I RESERVE THE RIGHT TO END THIS LISTING EARLY. PLEASE NOTE THAT THIS LISTING IS FOR THE BOAT AND TRAILER ONLY. IT DOES NOT INCLUDE THE TOW VEHICLE VARIOUSLY PICTURED. BIDDER QUALIFICATIONS: BIDDERS WITH LESS THAN 10 TRANSACTIONS AND/OR WITH NEGATIVE FEEDBACK MUST CONTACT ME PRIOR TO BIDDING OR THEIR BID WILL BE CANCELLED. SHIPPING: BUYER IS RESPONSIBLE FOR ANY AND ALL SHIPPING CONSIDERATIONS. (PICKUP OR SHIPPING TO THE UNITED STATES ONLY, UNLESS YOU CONTACT ME AND ADDITIONAL CONSIDERATIONS AND ARRANGEMENTS ARE MET.) PAYMENT: A $1,000.00 COMMITMENT DEPOSIT MUST BE RECEIVED WITHIN 24 HOURS OF LISTING CLOSE. THE REMAINDER OF THE FULL PAYMENT MUST BE RECEIVED WITHIN 7 DAYS OF LISTING CLOSE. BUYER SHOULD CONTACT ME TO DISCUSS PAYMENT AND PICKUP ARRANGEMENTS. I WILL ACCEPT PAYPAL FOR DEPOSIT ONLY; AND CASH (IN PERSON), BANK WIRE TRANSFER OR BANK CHECK/MONEY ORDER (MUST BE CLEARED THROUGH MY BANK) FOR THE BALANCE OF THE PURCHASE PRICE PRIOR TO PAPER TRANSFER AND/OR PICKUP. THIS BOAT IS BEING OFFERED FOR SALE "AS-IS, WHERE-IS" WITHOUT ANY WARRANTY, EXPRESSED OR IMPLIED.
$13,000
Heber Springs, Arkansas
22 Foot SeaDoo Jet Boat. Get the luxuries of a pontoon with the speed and performance of a ski boat! Jet propulsion Mercury Optimax 250 horsepower engine, so no dangling prop to worry about. Lots of storage. Seating for up to 12 with a table and cup-holders. Includes a pop-up changing station with porta-potti. Bimini top for shade and a rear boarding ladder. There's even a kiddie pool for the kids to splash about in! Boat is sold used, as is, no warranty expressed or implied. This boat is a 2004 model with a 2003 Karavan trailer included. Title is available on the Karavan Trailer; the boat and engine are bill of sale only, as Arkansas is a non-title state for boats/watercraft. AS IS, NO WARRANTY EXPRESSED OR IMPLIED. Per Arkansas state law, there is NO sales tax on this boat! This was traded in on a new boat which collected tax, so no sales tax is necessary to be collected on our end at point of sale. GhettoWorks is not responsible for any fees you may incur upon registration in your state/county. We do not add "documentation fees" like most do, the final sell price is what you'll pay, we don't tack on any other fees. We will accept payment via cash in person, or cashier's check only. A non-refundable $250.00 PayPal deposit is required within 48 hours of auction end. This $250.00 will count towards your final purchase, however PayPal can NOT be used to pay the entire balance. Cash or cashier's check only, no personal checks or credit/debit cards. If paying via check, all funds must clear the bank before the boat leaves our location. You are responsible for delivery/shipping, GhettoWorks will not ship this boat, but will cooperate with any pickup arrangements you want to make. However, we require that someone be here IN PERSON to sign the bill of sale/any additional paperwork. If you are making delivery/shipping arrangements to get the boat at a later date, that is fine, but we require a bill of sale to be signed IN PERSON, and will verify the person's identity via photo identification. We are open Tuesday through Saturday from 8:00 am to 5:00 pm central standard time, so boat can be picked up during those hours once all documents are signed and all funds cleared. Boat is for sale locally, we may cancel this auction at any time and sell to a local buyer. Boat is available for viewing at our location in Heber Springs, Arkansas below:GhettoWorks Marine & More3109 Hwy 25B NorthHeber Springs, AR 72543Phone: 501-887-9911Boat is strictly as is, however we do have a test pond on-site where you can see the boat run. Boat is on display on our lot and can be viewed during normal business hours. Please call ahead and let us know you are coming. Additional information about the boat, specs, etc:The Islandia model is dedicated to the pursuit of family recreation. Relax at the transom on three cushioned seats that convert to a sun pad. Gather around the removable cockpit table. Or watch your children splash in the kiddie pool located in the bow. A swing-away helm seat allows you to turn the cockpit into an L-Shaped lounge. Amenities include a freshwater shower, bimini top and convenience center with a cooler. You'll even find a fully enclosed changing station complete with portable head.Specs (taken from official BRP/SeaDoo Spec Sheet):Overall length: 22'0" (or 6.7m)Beam: 8'3" (or 2.52m)Draft: 12 Degree (or 30.5 cm)Deadrise: 16"Weight (dry): 3,050 pounds (or 1,383 kg)Passenger Capcity: 12 personsLoad Limit: 1,800 pounds (or 816 kg)Fuel Capacity: 55 US Gallons (or 208L)Water Capacity: 20 US Gallons (or 78L)Oil Capacity: 3 US Gallons (or 11.4L)Engine: 250 HP OptiMax Mercury Jet Drive (V6 3.0L)See Additional Specs below for engine information: Engine Specs (taken from official Spec Sheet by BRP/SeaDoo):HP at Impeller: 250 (186 kW)Max RPM (Wide Open Throttle): 5150 to 5650Cylinder/Configuration V-6 (60-Degree Vee)Displacement (CID/CC): 186/3047Bore & Stroke (In): 3.63 x 3.00Bore & Stroke (mm): 92.1 x 76.2Fuel Induction System: 2-stage direct fuel injectionIgnition System: PCM Digitital inductiveAlternator: 60 amp/756 watt (belt-driven)Weight (lb/kg): 434/197 (engine and pump)Lubrication System: Electronically controlled, multipoint, variable-ratio oil injectionFlush System: StandardCooling System: Self-DrainingStarting: Computer-controlled, electric with auto-prime and turn-keyOperator Warning System: Engine Guardian™ – over-rev, overheat, low oil level, low battery voltage, oil system failure, water in fuel, low water pressure, engine sensor failureSmartCraft: YesPump Type: Mixed flow/high volumeImpeller Diameter (In): 7.25Impeller Diameter (mm): 184Impeller Type: 4-blade progressive-pitch stainless steelTrim System: Adjustable PlateGear Ratio: 1.15:1Exhaust System: Tuned through-transom with dual mufflers, 3" outletsGear Shift: F-N-R with high-thrust, dual-outlet reverse gateCARB Star Rating: 2 Mercury Optimax 250 Features (taken from official Spec Sheet provided by BRP/SeaDoo):• PCM computer-controlled starting offers optimum starting in all weather conditions. Most sophisticated system offered.• Electronic multipoint direct fuel injection improves fuel economy up to 60 percent at cruise speeds, meets 2004 CARB exhaust emissions standards and eliminates smoke.• Dual muffler through-transom exhaust with expansion chamber delivers unmatched quiet running for a more comfortable driving experience while enhancing engine performance.• Self-draining cooling system eliminates worry about draining the cooling system after operating in cold temperatures. Reduces winterization costs.• V-6 powerhead offers a powerful, yet compact and efficient engine package with excellent overall performance.• Hydro-Surge automatic weed cleanout system clears weeds and grass from the intake of the jet, while keeping rocks and larger debris out without turning the engine off.• This engine has a 2-star CARB rating.• Large 7.25" diameter pump pushes more water through the pump for greater thrust for superior efficiency, maximum acceleration and ski-towing capability• Rubber-isolated engine mounting system isolates engine vibrations to give you a smooth, comfortable ride and never requires adjustments or alignment• Unique, multistep painting process includes chemical treatment, EDP and chrome epoxy primers and abrasion resistant acrylic paint baked to a hard, corrosion-resistant finish• Stainless steel impeller with variable pitch provides superior propulsive efficiency, performance and durability.• Low-maintenance pump requires only annual lubrication maintenance on all pump bearings, no need to disassemble pump parts to change oil.• SmartCraft®-compatible engine allows for up-to-the-second engine gauge information and gives advanced warning of possible problems.• Automatic bilge siphon system keeps your engine compartment dry whenever the engine is running, even when the electric bilge pump fails to operate.• High-thrust, dual-outlet reverse gate provides unmatched reverse thrust for backing off trailers and maneuverability when backing up.• Fully integrated, easy-to-use engine flush port helps keep cooling system clean from saltwater corrosion and debris. ADDITIONAL PHOTOS AVAILABLE ON REQUEST
$9,900
Keller, Texas
Category -
Length -
Posted Over 1 Month
Fresh out of the crate 2 years ago from DFW Honda 61 hours total . Stored in garage never kept outside - One year left on Pre-Paid Maintenance Plan. - Includes summerization and winterization - tune ups and oil changes. Will be transferred to buyer - 2007 Shorelander Trailer see specs below - The world's first production turbocharged four-stroke three-seat personal watercraft continues to dominate. And its features continue to impress; 1235 cc turbocharged four-stroke engine off-throttle steering system selectable speed limiter and electronic keyless ignition. Easy board rear flip down ladder included Manufacturer Honda Model Year 2006 Model AquaTrax F-12X ARX1200T3 Length 125.9 in Height 41.7 in Width 49 in Weight 792 lbs Engine Liquid-cooled dry-sump inline 4-cylinder with intercooled turbocharger DOHC; 4-valves per cylindeR Displacement 1235 cc Bore x Stroke 79 by 63 mm Compression Ratio 8.5:1 Carburetion PGM-FI with automatic enricher circuit Fuel Capacity 16.6 gal. with low fuel warning Ignition Computer-controlled digital with 3-dimensional mapping Transmission Direct shaft-drive Pump Axial-flow single-stage 155 mm jet pump with reverse Hull Material Fiberglass Storage 25.6 gal Seating 3-person Seat Length 42.7 in Colors Two-tone Black Red 2007 Shorelander PWC Trailer PWC12STS Specs Capacity: 1200 lbs Ship Weight: 255 lbs GVWR: 1495 lbs GAWR: 1495 lbs Tires: 4.80 by 12-B Wheel Style: Modular Frame Size: 1.5 by 3 by 14 ga Frame Width: 44 Inches Frame Length: 104 inches Overall Width: 59.5 Inches Max. Overall Length: 147.5 Inches Fender Style: Injection Molded Width Between Fenders: 46 Inches Tongue Tube Size: 3 by 3 by 14 ga Tongue Length: 42 Inches Coupler Size: 2 in Class II Axle Size or Style: Channel Hub Size: 1 1 16 in by 1 1 16 in Bolt Pattern: 5 bolts on 4.5 in Bearing Protectors: Standard Spring Length: 21 Slipper Number of Leaves: 3 Bunk Dimensions: 2 in by 4 in Bunk Length: 60 Lights Wiring: Yes Trailer Style: PWC . Full financing Warranties Shipping may be available to qualified buyers.