Cabin Cruisers for sale in Pennsylvania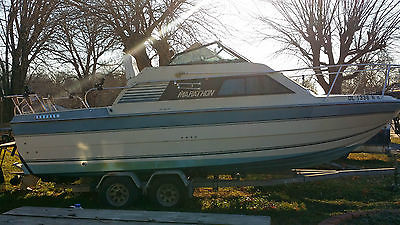 $3,000
Aston, Pennsylvania
Category Cabin Cruisers
Length 28.0
Posted Over 1 Month
This 1989 Marathon Crusier is 28ft long with a room down below, a small area to sleep and bathroom inside. Their is work that needs to be done mechanical and cosmetically all around the boat. I have not had the boat started up in a while but the last time i check the engine ran started up and ran great. The boat needs to be painted, bathroom features need to be installed, stove may still work, needs a driver seat, The boat was bough by my father as a project to work on. The boat was given to me, but i know nothing about how to maintain a boat so i wish to sell it as soon as possible because i want someone to have the boat that will take interest in restoring it. Im selling the boat and the trailer in which the boat sits on. I recommend that buyer comes and takes a look at the boat before buying. Any questions please ask,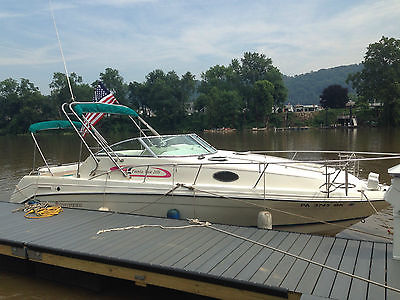 $12,500
Mckees Rocks, Pennsylvania
Category Cabin Cruisers
Length 26.5
Posted Over 1 Month
Rinker 265 Fiesta Vee 26.5 foot Cabin Cruiser Ready to Go Go Go! Selling my Rinker Boat in great condition with only normal wear and tear. She is ready for great times in the water. Even comes with a Tube so you only need to haul her to the water and start having fun. She has already enjoyed part of the summer in the Ohio river (see the photos). We ran her low to average hours and she was in storage a few years. Babied and never abused!!! Thoroughly detailed at the beginning of the season. Engine and components completely and professionally checked. Flat out "great boat to get started with". Runs like NEW. New batteries with warranties, new forward hatch from Bomar, Fuel tank and carburetor professionally cleaned. Brand new Sierra OEM Marine starter. Starts in a flash! So many extras (see the NADA list below) Also not shown on the list, full Head with hot and Cold Shower and electric flushing toilet. The C.N.G. Range also has an electric element. Full canvas camper with zip out windows!!! Aft table for cocktails and beverages, Larger table for meals and card games. Cabin capable of sleeping six with children otherwise more suited for four grown adults. Pull up Anchor with chrome chain. Blue and White fenders and All the lines you need for docking and locking. Extra long lock line for two pin capability! Many life vests of all sizes...10 or more!!! Two Outdoor Pro Series Bose Speakers on the Bow..plus all the normal speakers working perfect. (Two additional large outdoor Peavey Speakers also included) Had to move overseas and couldn't take it with me:( Can be viewed in advance of making offer! Just contact me for the local contact information. (below from NADA, price it yourself, use 15136 zip code) 1995 Rinker Boat CoFIESTA VEE 265/ECResearch another boatValuesSpecificationsFloor PlanSpecial NotesValuesValuesPrint Suggested List – We have included manufacturer's suggested retail pricing (MSRP) to assist in the financing, insuring and appraising of vessels. The MSRP is the manufacturer's and/or distributor's highest suggested retail price in the U.S.A. when the unit was new. The MSRP is furnished by the manufacturer and/or distributor and are assumed to be correct. Unless indicated, the MSRP does not include destination charges, dealer set-up, state or local taxes, license tags or insurance." style="margin: 0px; padding: 5px 10px 0px 5px; font-size: 15px; color: rgb(41, 78, 146); font-style: inherit; text-align: right;">Suggested List PriceLow Retail Value — A low retail valued boat will show excessive wear and tear either cosmetically and/or mechanically. This boat may or may not be in running order. The buyer can expect to invest in cosmetic and/or mechanical work. Low retail vessels usually are not found on a dealer's lot. Low Retail is not a trade-in value." style="margin: 0px; padding: 5px 10px 0px 5px; font-size: 15px; color: rgb(41, 78, 146); font-style: inherit; text-align: right;">Low RetailAverage Retail Value — An average retail valued boat should be in good condition with no visible damage or defects. This boat will show moderate wear and tear and will be in sound running condition. The buyer may need to invest in either minor cosmetic or mechanical work." style="margin: 0px; padding: 5px 10px 0px 5px; font-size: 15px; color: rgb(41, 78, 146); font-style: inherit; text-align: right;">Average RetailBase Price$36,995$8,600$9,800Engine 301-350 HP (5.7L - 8.1L ##)$565$565Options: (change) Bimini Top $165$185Boat Cover - 26 ft. thru 31 ft. $165$190Bridge Enclosure $1,440$1,635Cockpit Cover $175$200Battery Charger - Dual 10 amp $95$110Fish Finder - Max Depth 1000' $250$285Inverter / Charger $340$385Radio / 25 Watt VHF - Fixed Mount $150$170Stereo - AM/FM/CD player w/4 speakers $175$200Microwave Oven $105$120Pressure Water System $80$90Range - C.N.G. $330$375Refrigerator - AC/DC - 6 cu. ft. $305$345Water Heater - 6 Gallon $120$135Air Conditioning - Carry On $245$280Batteries - Dual w/Switch $85$95Cavitation Plates / Adjustable $315$360Fire Ext. 75 - 100 cu. ft. $80$90Fire Ext. 100 - 200 cu. ft. $125$140Spotlight - Remote Control $110$125Swim Step w/Fold Down Ladder $135$155Trim Tabs / Hydraulic $275$315Transom Shower - Hot & Cold $85$95Trailer: (change) 1995 Tandem 25 Feet w/ surge brakes and poor tires. $800$1,000TOTAL PRICE:$36,995$15,315$17,445 This is a private sale for a 1995 Rinker 265 Fiesta Vee, in asis condition and without warranty!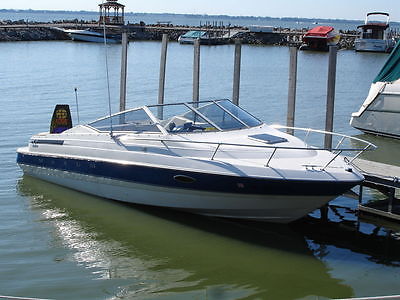 $9,000
Du Bois, Pennsylvania
1993 Maxum 2200 SC. This boat is in very good condition, is very clean, and I am the third owner. All of the pictures are of the actual boat for sale. 2004 Mercruiser 235 HP 5.6 L V8 recently serviced, along with fuel system. Dual marine batteries, automatic bilge pump, marine radio, marine AM/FM/CD player, fish finder sonar, compass - everything perfectly functional. Boat has been professionally winterized and under double-cover every Winter. Eagle double axel trailer with hydraulic brakes - brand new brake assemblies installed in 2013, the actuator installed in 2009. The boat has not been hauled around much, was never run by me above 20 knots, though it would easily, but we just don't have that kind of water, and had never seen salt water. The only issue is "tired " upholstery and covers - seams are popped on some seats. The covers of the berth cushions are intact and clean. This is a Great Lakes boat. All documentation on hand. The boat is in my immediate possession and is available to look at. Will be more than happy to assist in hauling arrangements. REASONABLE OFFERS CONSIDERED.