Chris Craft Deluxe Runabout boats for sale
$75,000
Templeton, California
Category -
Length 21.0
Posted Over 1 Month
1957 Chris Craft KFL 130 HP twin cockpit Deluxe Runabout Barrelback with only 391 original hours. Motor and trans recently completely gone thru and rebuilt professionally. This is 102 of 103 boats produced. All original and unmolested..in near concourse condition. Everthing works as should. Trailer included.This baby is ready to go! Just pick a name for her and drop her in the lake! You are not going to find a cleaner original boat. Contact me with any questions or to arrange inspection. Listed locally...if sold this offer will be cancelled.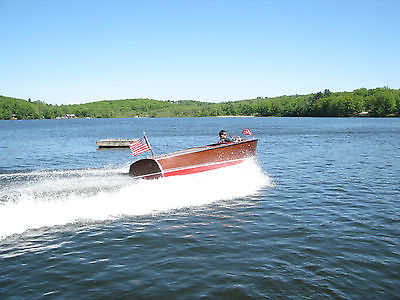 $15,000
Morris, Connecticut
Category Runabout Boats
Length 17'
Posted Over 1 Month
Very nice original boat in user condition that I've owned for 25 yrs and 2 complete strip and refinishes, however, at some point in the boats history someone changed the hatch cover to what looks like teak and had removed the front seat and made it a wrap around configuration with a gastly captains chair. I put the seating back in its proper order but had no idea what the exact build was. The boat has its original high performance KFL 131 twin updraft carb. Hercules engine. The engine has been rebuilt 500 hrs "estimate" ago and runs perfectly. The bottom is also original and in good condition and not destroyed by West System cold molded lay-ups, fiberglass, 5200 etc. but that's for you to decide. I have a piece of matching leather for the dashboard just never got around to pulling the gauges and trim. The boat is in need of refinishing which I will do when time permits, but will raise the price to what these boats now demand in great condition. Older but functional waterline cover and tandem trailer included. I recommend that you come and see it before bidding it will always look better in pictures and in my mind. Please don't bid unless you have perfect feedback or a good excuse...it's not hard.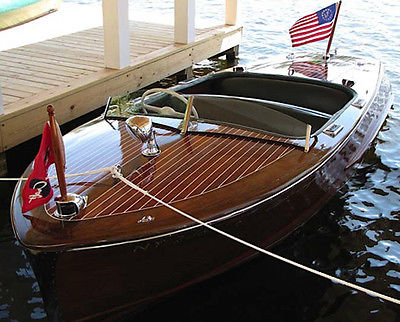 $24,000
Clayton, New York
Category Runabout Boats
Length 17.0
Posted Over 1 Month
Antique Boat America is your Premier Broker for Antique & Classic boats. Buy a boat, sell your boat, or have us find you next classic! STOCK #36109 This is an excellent 1947 Chris Craft Deluxe Runabout. One of only 1880 built between 1946 and 1950! The boat underwent a comprehensive restoration in 2010. Chris Craft 6 cylinder engine was totally rebuilt in 2013. This boat was feature in an episode of the popular TV drama, "The Sopranos". Check out the video below. Great boat with a story to tell... Video Link: http://youtu.be/MjohsyoJjao Would you like to call us directly? Inquiries on this boat may be directed to Mark Krzyzanowski by email at mark@antiqueboatamerica.com or direct line, 800-675-4089. Mark is a wooden boat lover and has been involved with the classics for over 20 years! We are located in the heart of the 1000 Islands, Clayton, NY; arguably one of the most popular wooden boat regions in North America. Home of the Antique Boat Museum, National Headquarters of the Antique & Classic Boat Society, and several world class restoration shops. 90 minutes North of the Syracuse, NY international airport, 90 minutes South of the Ottawa, ON international airport. 30 minutes North of the Watertown, NY airport. We encourage you to fly in and take a look at the boat with your own eyes! Offering free shuttle service to and from the Watertown airport! Let us help to arrange shipping, or keep the boat in our care until you are ready to pick it up. About Antique Boat America: Headquartered in Clayton, NY -Antique Boat America is your Premier Broker for Antique & Classic Boats. For the last 11 years, the company has provided a broad range of services to enthusiastic fans of wooden boats. Antique Boat America offers over 1,800 boats for sale on its website. To date, 29 million visitors have viewed the new daily listings and the extensive inventory of boats built by Gar Wood, Chris Craft, Riva, Century, Lyman, Ditchburn, Greavette, Minett-Shields, and Hacker Craft. The company also offers shipping, surveying, brokerage, transport, analysis, evaluations, and also assists its clients in obtaining competitive insurance. For more information, visit www.antiqueboatamerica.com or call 800-675-4089. Antique Boat America is the world's LARGEST broker of Antique & Classic Boats Our Showroom: Located in the heart of the 1000 Islands Region, Clayton, New York. Our 20,000 square foot facility houses over 100 beautiful Antique & Classic boats, all offered for sale under one roof. Have you thought about financing your next classic? That's right: at Antique Boat America, you can buy, finance, and transport your next classic all in one place! We are proud to offer classic boat financing options through JJ Best Banc. Contact Mark Krzyzanowski: Mark@antiqueboatamerica.com or 800-675-4089 Talk to us today...Let's make a deal! Reference STOCK #36109 All that's missing is YOU in the Captain's chair! Call us now and let's deal on this great boat. We welcome pre-purchase inspection on every boat that we sell. We provide free pick up to and from the Watertown, NY Airport.Buyer is responsible for all shipping costs. We can help to arrange shipping worldwide at reasonable rates. These are pre-owned boats and sold as-is with no implied conditions or warranty.