Drift Boats for sale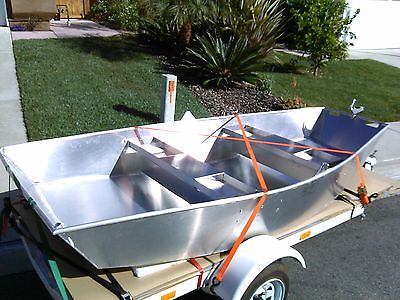 $2,250
San Diego, California
Category Drift Boats
Length 10.0
Posted Over 1 Month
THE SEASON IS HERE!! NEW 10' MINI DRIFTER DRIFT BOAT. BUILT TO ORDER. CUSTOM BUILT AND HAND MADE ONE AT A TIME, UTILIZING LIGHTWEIGHT 5052 AND 6061 ALUMINUM.(Pricing is for bare aluminum finished boat only.) THE ULTIMATE IS SMALL BOAT VERSATILITY AND FISHABILITY! THIS 1 OR 2 PERSON DRIFT BOAT CAN EASILY BE LAUNCHED ANYWHERE. NO LAUNCH RAMP OR DESIGNATED ACCESS AREAS NEEDED FOR THIS FISHING PLATFORM. THE MINI DRIFTER CAN EASILY BE HANDLED AND DRAGGED TO YOUR FAVORITE SPOT EFFORTLESSLY. SLIDES INTO THE BACK OF A TRUCK, OR CAN BE CAR TOPPED! VERY STABLE AND HANDLES LIKE A DREAM. ONLY 125LBS.!!! I TOOK OVER MANUFACTURING OF THESE VERY VERSATILE BOATS, AND HAVE FISHED OUT OF THEM SINCE 1990. FISHING MOST OF THE RIVERS AND STREAMS IN MONTANA, CALIFORNIA, NEW MEXICO. FISHING FOR STEELHEAD, SALMON AND TROUT. ALSO FISHES PERFECTLY IN BAYS, LAKES, PONDS, AND LAGOONS. I PERSONALLY FISH THE MANGROVES IN BAJA AND EVEN THE SEA OF CORTEZ, CATCHING DORADO, TUNA, GROUPER AND MANY OTHER SPECIES. THEY WORK GREAT WITH A 2HP OR ELECTRIC MOTOR! PAINTING, POWDER COATING, OUTDOOR CARPET FLOOR, EPOXY GRAPHITE BOTTOM COATING ARE ALL OPTIONAL. IF INTERESTED, CONTACT FOR SPECIAL PRICING. BUYER PAYS ACTUAL SHIPPING COSTS AND $50 FOR THE 8' X 4' PALLET. FOR MORE INFORMATION, VISIT MINIDRIFTER.C O M OR CALL ME DIRECTLY AT (619)222-0301.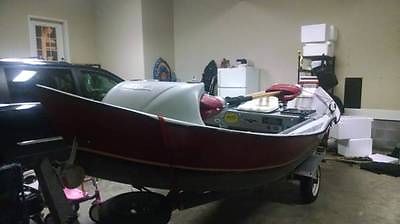 $4,250
Scottsboro, Alabama
Category Drift Boats
Length 15
Posted Over 1 Month
Included: Galvanized Trailer, 2 9' Sawyer Squaretop Oars with Shoal Cut blades, 2 9' Cataract Oars, One 2 piece Sawyer Spare Oar, Spike Anchor, Floor Anchor System with EZ pull pully system, motor mount, rowers bench with storage, Goop Coat It (kevlar/graphite epoxy) on hull and chines. No leaks, boat tracks and rows great.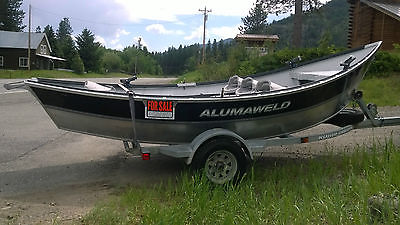 $5,500
Winthrop, Washington
2000 Alumweld Drift Boat 16'x54" Pro Guide Model (54" wide at bottom and 78" wide at beam) 2000 Rogue Galvanized Drift Boat Trailer Full length side storage and bow storage Side release anchor system w/pyramid anchor Custom propane heat/cook system Three front seats with under seat storage Rowers bench with strap seat and under seat fish box Three rod storage Three rod holders Three cup holders Three life vests One landing net Rear seat 1 pr Sawyer graphite counterbalanced oars, with wood tips and oar rites 1 ea Sawyer graphite 3 piece breakdown spare oar Spare tire Other details: trailer is rewired with new wire harness. Boat is re-bottom coated with Kevlar/ graphite slick bottom. Boat sides cleaned with Alumabrite. New boat winch. 4 new deluxe Wise swivel/ padded boat seats. This boat is all cleaned up and ready to go! Fish and fun, just launch and enjoy! Normal 0 false false false EN-US X-NONE X-NONE