Stingray boats for sale in Mississippi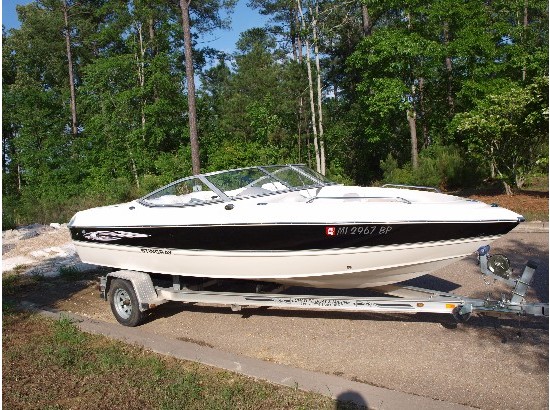 $10,500
Madison, Mississippi
2007 Stingray 195LR,Just serviced and in excellent conditionBattery, stereo, carpet, tilt motor and propeller ALL BRAND NEW!Mercruiser 155 HP engine;157 hours; REDUCED! 6016722810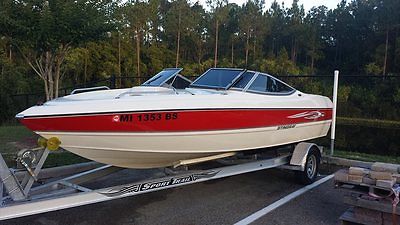 $11,500
Biloxi, Mississippi
2008 Stingray 195LX for sale due to relocation. The engine is a 4.3L GL with a 195HP motor, 2 barrel Holley carb, and equipped with a Volva Penta stern drive. I am the second owner of this boat. I bought it from a previous owner with 8 hours on the motor and it now has 245 hours after 5 years of use (Bought in April of 2010). Within the last two years I have replaced the following parts due to normal wear and tear or due to its required maintenance schedule: -Two new batteries with Perco switch -Aluminum Sport Trail trailer 22 foot (2013) -New JVC media player with Bluetooth, hands free phone capability, & Pandora -New starter -New spark plugs (Changed yearly every November) -New spark plug wires -New distributor cap -New serpentine belt & tensioner -New impeller -New hydraulic system -New bilge pump -New JBL 6 1'2" speakers -New interior and exterior lighting The stereo system also has two MB Quart amplifiers driving the internal speakers and one 12" subwoofer located on the right hand-side of the engine compartment. The propeller is an Apollo 4 blade stainless steel prop. All of the interior cup holders are stainless steel. The steering wheel is a custom chrome wheel. The boat comes with 6 life jackets, 2 anchors, bimini top, an emergency kit, docking ropes and hull fenders, tool kit, air horn, spare trailer tire, and flare gun. This boat does really well on the Back Bay and in the river. It has made many trips to Horn Island, but seas must be 1-2 foot or less for the ride to be comfortable for your passengers. Normal cruising speed to Horn on a good day is 40-45 MPH. A trip from I 110 bridge to Horn takes 20 minutes on a good day and 45-60 on a bad day (waves 3 foot or more). The boat can make 4 trips to and from Horn on one tank of gas easily. I am selling this boat below its current value to accommodate for the hours on the motor as well as normal wear and tear that I am not able to address due to my immediate need to sell it and relocate. The boat has never been in an accident nor has it broken down with the exception of a broken serpentine belt that I failed to replace as routine maintenance. -The engine cover seat needs to be re-upholstered and re-attached to the boat frame as the metal brackets fell out due to rotted wood inside the engine cover. I called on the price to do both at a local upholstering shop and the quote I got was $400-$600. The engine cover still locks from the front and is safe to trailer and take the boat out at full throttle without issue. -The speedometer is inoperable due to a foreign object stuck in the water sensor. I don't have the expertise or know how to remove it, but the tachometer of the engine and the RPM you are running at gives you a good idea of how fast the boat is traveling. Since there aren't any speed limits, this really isn't a big issue but easy to fix for the right person. -The engine has noticeable rust on it due to exposure to the salt in the air and water. This is normal but worthy of mentioning if you are expecting a "pristine" looking engine under the hood. It's not, but the boat runs strong, gets on plane in less than 5 seconds, and has been very reliable. The boat has been serviced each year every November to include the oil filter, oil, fuel filter, spark plugs, and impeller replacement if required. The transmission fluid has been changed once since purchase. The boat is trailered at my home. If you would like to physically view it, please call me at 228-326-1956 or email me at [email protected] . If you are serious during the onsite, I will be more than happy to schedule a test drive during weekends only. SERIOUS INQUIRIES ONLY PLEASE!! I am also looking to sell the truck in the picture, but cant do that until the boat is sold. I will consider a package deal for the right offer if interested in the truck too. The truck is a 2012 Chevy Silverado 1500 extended cab with a 5.3L V-8 and 30,000 miles on it. It has a Pioneer full screen deck, amplifier, and custom 10" subwoofer box in the cab. $22K OBO! Will consider dropping asking price if you purchase the boat too. The truck is in excellent condition and has been serviced every 5000 miles. Other than towing this boat, it is used primarily to drive to and from work. Currently it's parked and unused.
$7,995
Ridgeland, Mississippi
gsegold Store 2001 Stingray 190CS Garage Kept in Fantastic Condition with Only 178 Hours!