Sun Tracker Party Barge 30 boats for sale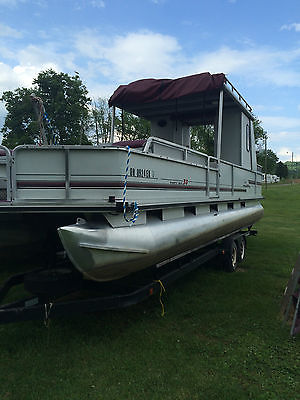 $7,300
Huntington, West Virginia
Category -
Length 30.0
Posted Over 1 Month
1996 Sun Tracker Party Hut 30' Pontoon boat. If anyone is familiar with these boats the know that they are truly like a camper on water. I got this on trade several months ago and took it out several times so its time for it to go. The boats interior is in very good condition and it appears that the front seats have been recently redone. The boat has the complete camper top and all rails as well. I had it out several weeks ago and the engine died on me so i had to tow it in,after spending a few minutes diagnosing it appears the carbs need rebuilt/etc. The boat will start,idle and run all day on the water hose but as soon as you put it the water under a load it wants to die"hence carb rebuild or could one of the power packs" either way a pretty simple fix that I dont have time to mess with . Please see photos and feel free to ask any questions before bidding. Boat does need work but its well worth what I'm asking. These boats in perfect condition are bringing around $12,000.00. Again please feel free to come look at boat or ask any question or concerns you have before bidding. Boat is being sold as is where is.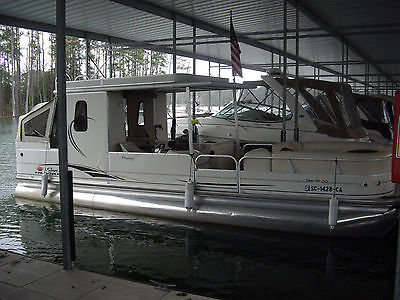 $17,900
Columbia, South Carolina
Category -
Length 30.0
Posted Over 1 Month
2005 Suntracker Party Hut Regency w / Mercury 115 hp. 2 stroke engine GOOD CONDITION - with trailer , cover & ALL Canvas ~~~~ FRESHWATER USE~~~~ ***SAVE THOUSANDS OFF NEW *** MAKE REASONABLE OFFER ! ! I HAVE PRICED THIS PONTOON ABOUT $5000-7000.00 less than others on the internet for a QUICK SALE ...... So it wont last long , Good Luck ! CONDITION : This Boat is in better than avg condition , and has been in a covered slip since new ! It has a few minor scratches & dents , but overall good condition ... the engine is in very good condition and runs great also trailer tires are brand new ! ! THE BOAT IS CURRENTLY LOCATED AT LIGHTHOUSE MARINA CHAPIN SC ! ! I HAVE BEEN SELLING BOATS AND RVS FOR 14 YEARS, WE ARE HONEST AND TRUSTWORTHY WITH A LONG STANDING REPUTATION. I HAVE ALL INTENTIONS OF SELLING THIS JET TO THE HIGHEST OFFER, SO IF THIS IS WHAT YOUR LOOKING FOR DON'T WAIT.... BUY NOW ! ! FEEDBACK: MY GOAL IS TO PROVIDE 100% CUSTOMER SATISFACTION WITH 100% FEEDBACK, SO IF YOU LEAVE US POSITIVE FEEDBACK IT WILL GREATLY BE APPRECIATED, HOWEVER IF YOU ARE DISSATISFIED WITH THE BOAT WE WILL GLADLY REFUND YOUR DEPOSIT TO AVOID AN UNHAPPY CUSTOMER AND NEGITIVE FEEDBACK, CALL IF YOU HAVE ANY QUESTIONS ABOUT FEEDBACK !!!! I RESERVE THE RIGHT TO END THIS LISTING EARLY !! If you have any questions e-mail at jscottb@comcast.net or call SCOTT at 706-945-1700 office #.... or 706-832-4949 cell # , please only serious bidders with money make offers and only serious buyers call ! ! !