Blue Jay boats for sale
$400
Bedford, New Hampshire
OBO
1968 (educated guess) Blue Jay sail boat. Barn find. All the sails, mast, center board, rudder, floor boards, etc are there. It was being refinished just before it was stored for over 30 years in a barn here in NH. Hull #4400.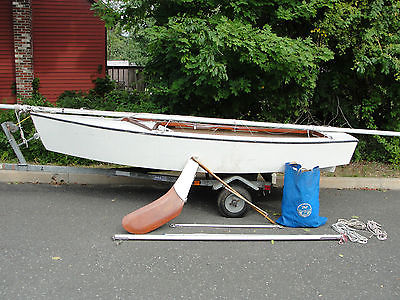 $1,200
Old Saybrook, Connecticut
This auction for a fiberglass Blue Jay Daysailer complete with trailer, all rigging and three sails. The trailer shown is included in the sale. Please read the add and view the pictures carefully. We have included 68 large pictures below the add to show you as much detail as possible as well as a description of condition. Our description of condition is based on a brief and casual inspection and is only to help you decide its value. You are welcome to inspect the boat in person if you wish to do so. It is located in Old Saybrook Ct, 06475 and is available anytime by appointment. The boat looks to be complete with rudder keel , mast and rigging. The sails included look to be in good condition and consist of a main, jib and spinnaker. We are unsure of the exact year of the boat but it is possible to use the hull number to research. The hull number is 5340 and all sails match the number.The gel-coat looks all original on the interior but the exterior was poorly brush painted some time ago. Overall this boat looks ready to sail. Please view all the large pictures below this ad to examine all details. The trailer is older and in solid condition. The springs and axle are solid but the lights may need repair/replacement. We towed it about 40 miles with no problems. We have only a bill of sale for the trailer as well as the boat from our company the boat and trailer. We do not have any originals so please do not bid if you need more paperwork than what we have. The boat was never registered so it has no registration papers, only a bill of sale. The boat will need to be paid for in full and picked up within one week of auction ending unless you have made other arrangements with us. We are available to deliver the boat anywhere for $2.00 per hauled mile if needed. Please feel free to contact us by e-mail or call (860)510-2623 with any questions.
$1,500
Indianapolis, Indiana
Category Dinghies
Length 13.5
Posted Over 1 Month
For sale is Blue Jay #5195. Built in 1970, it is fiberglass with interior wood accents. Includes original trailer that is titled and licensed in Indiana. Boat sails great (just sailed on 10/4/14), and I always get compliments on its classic looks and colorful sails. Mainsil and Jib are much newer and are in excellent shape; also includes a spinnaker (probably original) and is rigged as such. Trailer has new LED wiring, new galvanized wheels (includes 2 other wheels with good tires). Boat has new trailerable cover, foam mast and boom supports for storage, rudder has been glassed and has a couple new coats of spar varnish, interior wood was sanded and refinished this summer, includes various things like life jackets, cushion, trapeze, bumpers, etc.. Boat has typical scratches and imperfections as is typical of a boat this age, but is in overall good sailable shape. Hate to sell it, but I'm moving across country and doesn't make sense to bring it with me. Located in Indianapolis, IN, I can help with delivery if gas is paid and for a reasonable distance. Asking $1500; Pictures available here: https://plus.google.com/photos/116275069390715069275/albums/6066801191588415585?authkey=CJ7z-vWJx_KsUg