Tohatsu Mfs15ds boats for sale
Request Price
Lake Placid, Florida
2016 Tohatsu MFS15DS Get free shipping within the continental U.S. on all In Stock Tohatsu Tiller Handle 4-stroke portables, 20HP and below. Call today to purchase your new portable Tohatsu outboard and we will ship it out the same day free! Call  to Order Portable Tohatsu Outboards. Large Tohatsu outboard motors (25HP and above) must be rigged by a certified Tohatsu dealer. We offer free pick-up and delivery for all of our customers in the Central Florida region, and we offer competitive pricing on installation. Call to Order Large Tohatsu Outboards.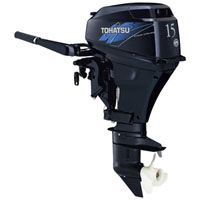 Request Price
Lake Placid, Florida
2015 Tohatsu MFS15DS Recently named as top choice in Boating Magazine's Buyer Guide for 15hp class! With a large powerhead, tuned intake system, and digital CDI ignition system, the 15hp Tohatsu provides reliable on demand power every time! Please call our new motors sales team at 877-412-6287 or visit www.boats.net for more information. FREE SHIPPING within the continental 48 U.S. States!