Gibbs Sports Amphibian Quadski Boats for sale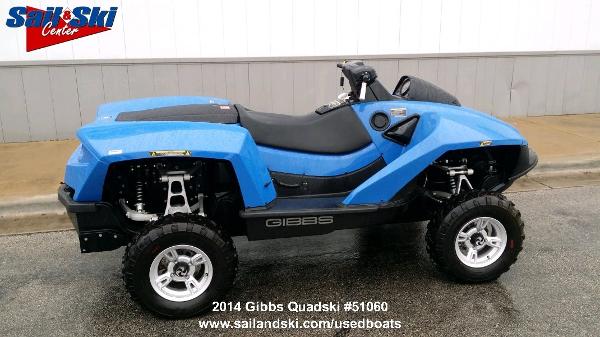 $28,995
Austin, Texas
Category Personal Water Craft
Length 11'
Posted Over 1 Month
2014 Gibbs Sports Amphibian Quadski REDUCED TO $28,995! 2014 Gibbs Quadski powered by BMW K1300 140HP 4-stroke EFI engine (10 hours). This barely used single seat Quadski reaches speeds on 45MPH and land and 45MPH on water. The Gibbs Quadski is the coolest vehicle on land and water – it's both an ATV and a PWC. In less than 5 seconds the Quadski transitions to the coolest personal watercraft on land. And in less than 5 seconds the Quadski transitions to the coolest ATV on water. You don't need a boat ramp to launch the Quadski.  A gentle sloping terrain is all you need.  Simply drive into the lake and press the water mode button when you have about 3' of water under the Quadski. Gibbs Amphibians is the world-leader in developing High Speed Amphibian (HSA) technology fused with cutting edge automotive and marine technologies.  The Gibbs product line includes Amphitrucks and Quadski amphibious vehicles.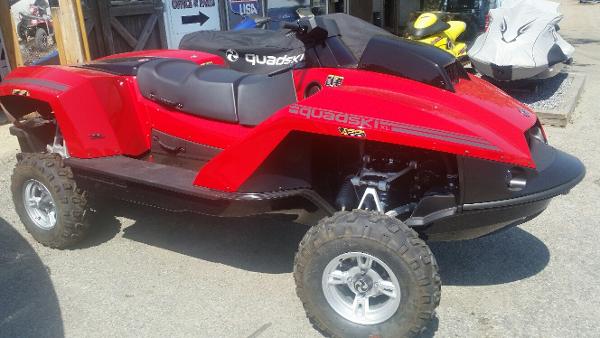 $45,999
Hampton Bays, New York
2015 QUADSKI XL Gibbs Sports Amphibians, the pioneering global leader in High Speed Amphibian (HSA) technology, introduces two innovative amphibians -- the Quadski and Quadski XL -- that redefine the ideas of freedom, flexibility and fun. Freedom The Quadski ushers in a new era of thrilling, go-anywhere recreation. You no longer have to choose between trail and water, opening up opportunities to explore like never before. Climb on, feel the freedom... and leave the boundaries behind! Flexibility A true amphibian, the Quadski is equally agile on land and water. A simple touch of a switch retracts the wheels after entering the water and deploys them when approaching land. The transition is quick and easy, allowing you to enjoy an exciting experience in either environment. Fun Riding the Quadski is a unique and exhilarating experience — one that indulges your sense of adventure. Capable of reaching speeds of 45 mph on both land and water, the Quadski delivers spirited and stable performance. From trailhead to beachhead, you are propelled onto a ground-breaking level of fun and excitement. Manufactured in Auburn Hills, Michigan, the world's first high speed sports amphibians enhance the freedom, flexibility and fun of personal powersports while eliminating the need to compromise between land and water.