Tandem Trimaran Boats for sale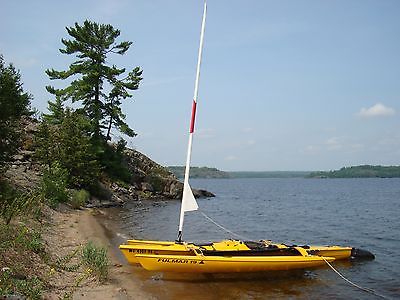 $7,500
Yucca Valley, California
Pedal Power Sailboat FULMAR-19 Trimaran -2-person boat, Built in 1998 Blazing fast, I've had it to 14 knots and cruised for hours at 8+ folding Akas. Carbon Fiber Roller-Furling Mast Sail, 80 sq ft Custom Galvanized Trailer. New tires All new running rigging SeaLeg, 4-knot Deployable Pedal Drive (SeaLeg) Rudder Control Levers in Cockpit New trampolines Spray aprons Lots of dry storage This is a very comfortable boat to sail, you sit facing forward. You can sail for hours without hurting your neck and back. The boat is steered by two hand levers by simple pushing forward pulling back with very little effort. L.O.A. 19ft. Beam 11 ft. - Folded 6ft. Weight 260 lbs. Centerboard and SeaLeg up 6" Centerboard and SeaLeg down 18" You can set this boat up less than 15 min. I have only seen three sell in the past 4 years. One sold for $11500.00 with new paint job. The others sold between $8000.00-$9000.00. This boat is ready to sail with many upgrades and $9,000 value, asking $7,500. Or Best Offer. Resent Question answerThere is not a Fulmar 19 forum per se but there is quite a bit of information on other multi-hull forums if you Google Fulmar 19. There are also some Youtube videos showing the boat under sail. These boats were built by one of the biggest, trimaran boat builders in Canada. The boat was too expensive to manufacture; so they stopped production in 1998. As far as parts availability; this boat needs nothing at this point. All the hardware used on this boat is readily available at any marine, sailing company. As far as the sail goes--they were custom made for the boat and can be easily reproduced by any sail maker.Also, the Hobie Tandem Island trimaran sail would be a direct replacement and available from any Hobie dealer.This is probably one of the easiest boats to learn to sail and has great performance. One of the greatest features is the deployable sea-leg drive. If the wind dies, you just lower the drive and pedal t three or four knots.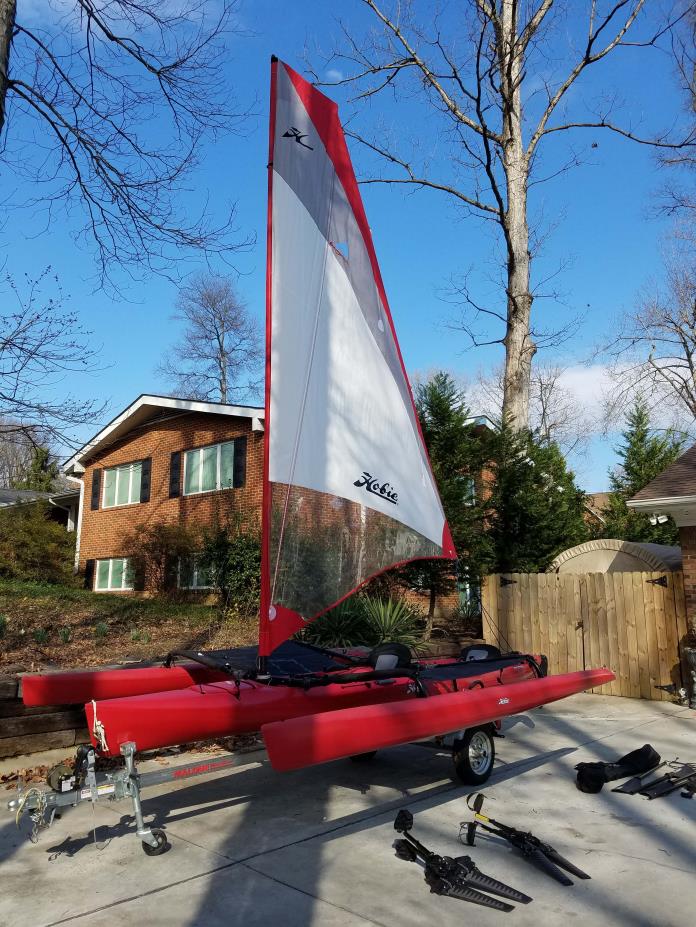 $6,000
Greensboro, North Carolina
Category -
Length 17'
Posted Over 1 Month
2012 Hobie Cat Mirage Adventure Tandem This is a gorgeous hibiscus red 2012 Hobie Mirage Tandem Island that includes a Malone MicroSport trailer with hull cradles and the optional trampoline package.      This two-person trimaran combines the joys of kayaking and sailing.  Paddle with your arms, pedal with your feet, or let the wind take you and a friend across rivers and lakes where other boats cant take you. Deploy the sail for extra speed, and if the wind is down, you can use it as a water born bicycle with the patented Mirage paddle system.  It is also is also an exceptional bluewater-capable fishing platform.   It is extremely stable and durable. It floats in very little water, but is fast and seaworthy. It is easy to rig and towable by most any car.  The Vertical Battened Rollerfurler Mainsail can be operated by either crew.  Either crew can steer or adjust the sail.  You can operate this boat with one person or two.  Features: Vantage CT Seating - Adjust height and recline Modern Hull and Alma Bow Shapes MirageDrive with Glide Technology All Lines and Hardware Plus Harken Blocks Deck-Mounted Crossbars Dual Rudder Deploy and Retract Controls in Front and Rear Cockpits Dual Steering (forward and rear) Easily Retractable and Removable Amas Four Cup Holders Four Mesh Stowage Pockets Fully-Retractable, Kick-Up Centerboard Kick-up Island Rudder Large Bow Hatch Lowrance® Ready Patented Roller-Furling Sail with Battens Rear Cargo Area with Bungee® Tie-Downs Roller-Furling Main Sail Three 8 Twist and Seal Hatches Two 2-Piece paddles with On-Aka Storage Two Molded-In Rod Holders Two-Piece Carbon Composite Mast   This boat has been well maintained and garaged since initial purchase.  It is an absolute joy on the water.  Price is firm.