Marine Trader 34 Double Cabin Boats for sale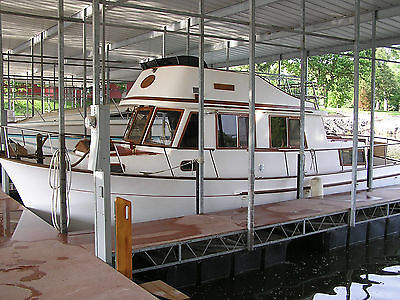 $32,900
Fenton, Missouri
Category Trawler Boats
Length 34.0
Posted Over 1 Month
Let's start with what kind of auction this is. You can hit the " Buy It Now Option " and own this very nice vessel. You are, however, committing to purchase it if you do. Or, you can make an offer that I can take into consideration. I will consider realistic offers, but not low ball offers, so please do not waste your time or mine. I also do not want to trade for anything else, or take partial trades of any kind. I do not need any more boats, cars, trucks, etc. Please don't ask. This is a very nice 3 owner trawler. Always fresh water and always moored in a covered dock. It only has 900 original hours on the single Ford Lehman 6 cylinder diesel engine. These engines can go 30,000 hours before reconditioning, so it is barely broken in. Gets great gas mileage and has a 1,000 mile range on the 300 gallons of fuel she carries. ( tanks are full right now ) 1985 was the first year of the Marine Trader's cabin to deck redesign. Boats previous to 1985 had teak deck problems that the newer design eliminated. All of the outside teak, and there is a lot of it, is in very solid shape. The interior is loaded with teak also, and it is pristine. All of the cushions have original coverings and they are in great shape. Two private state rooms, with a full head in each. There are depth sounders and marine radios at both driving stations, but, since it has always been in Missouri, there is no ocean going navigational items such as sonar, GPS, radar, etc. Same with a generator and marine A/C. No need for those by us, so it was not ordered with either of them. I did add a new window A/C to use dock side. It does have an electric windlass. This vessel is ready for a trip up or down the Mississippi River, or any other inland connecting river to get her to your area. It is currently located in a marina on the Mississippi River near Alton Illinois. The slip it is in can be taken over by the new owner. This vessel is Documented with the USA. The most used and trusted vessel valuation guide is the BUC books. It has this vessel valued at close to $50,000. I am well below BUC value for a quick sale. Please do not bid on this boat unless you are serious about buying it and have researched a way of getting it to you. I will not deliver it or arrange shipping across land. Call with any questions BEFORE hitting the buy it now or making an offer. I will give honest and complete answers to all questions I can answer. Thanks and have a great day, Dave 314-732-592five.

$14,500
Houghton, Michigan
Category -
Length -
Posted Over 1 Month
For your consideration is a 34 Marine Trader double cabin, it is a bit of a project as the topsides need attention. It is a perfectly usable boat as is and is ready to go anywhere but it needs paint and the teak needs refinishing. The original teak deck was removed and it now has just the fiberglass deck which has a little give when walked on but it does not leak. The interior is very nice and it has good electronics, Radar, chartplotter, auto pilot, marine radios, generator, heat and air conditioning, windlass. The bottom has fresh paint. The engine has around 5000 hours which is my best guess as the original hour meter has expired and the replacement is on a switch so it may not be exact. There is a 10 Brig dinghy included with a 4 horse Yamaha that runs well. I would take this vessel anywhere it just needs some tlc and someone with the time to do it. Call with questions 906-369-four 813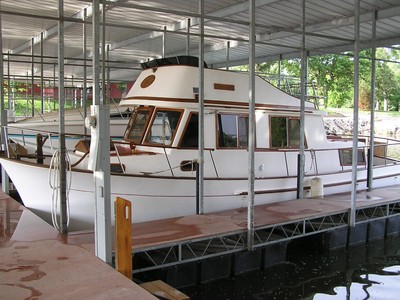 $36,500
Fenton, Missouri
Category -
Length -
Posted Over 1 Month
This is a super nice Marine Trader 34' Diesel Double Cabin Trawler. I am the third owner of it. It is a 1985 which is the first year for the re-designed flybridge cabin. Prior years had issues where the cabin fastened to the deck that caused rot and soft deck problems. This vessel has always been in fresh water and under cover. It is a very solid boat with one exception. The upper deck has a couple of soft spots. It is the Achilles heal, so to speak, of these boats. If you research this problem on line you will see that the problem was because they used left over mahogany plywood pieces for the fill material. Mahogany plywood has oils in it so the resins failed to bond after time. I cored drilled a hole to verify that there was no moisture problem and there is not any moisture issue. You can see the core drill and plug in the upper deck picture. There are several ways to correct the problem, and I actually have a kit to do the work, but I thought it best to let the new owner choose his own method. That is the only real issue with this boat. Now for the good stuff. These boats were all hand / custom built in Taiwan. They are built like tanks and have tons of teak wood inside and out. Every piece of wood you see in the picture is real Teak. All of the interior doors have hand carved oriental scenes on them. The floor is all inlaid teak. There are 2 full baths. One in the front quarters and one in the rear captains quarters. The captains quarters has 1 double bed and a single bed. The front quarters has a very large Vee birth. Lots of storage cabinets / drawers everywhere. There is a table for the central area but I have it stored. I was not using it and it made it easier to open up the engine bay with it off. Cushions are all original and in excellent shape. The last time she was pulled was 5 years ago. All was good at that time, but it is probably due for another inspection out of the water. I would not anticipate any issues. The engine is a Ford Lehman Diesel with only 900 hours on her. Lehmans can go for 30,000 hours before needing any major work. It has a range of 1,000 miles on the 300 gallons of fuel she holds. Both tanks are currently full. The engine starts right up, even after sitting for 5 months over the winter. Trans shifts great and makes no noise. Truly a great running boat. It is super easy to winterize also. It does not have a gen set or marine A/C. It does have a brand new window A/C unit that really cools the interior down fast. There is a great working windlass with chain up front. I have a name of shipper that can ship this boat just about anywhere in the US, and he is very reasonable. He is located close to where the boat is. It is currently on the Mississippi River near Alton, Illinois. Zip code 62035. It is in a covered slip in a safe marina that you can keep the boat in until you can have it moved. Guy is Gerry Cameron with Cameron Marine Transport. Cell # 618-727-2337 and office # 618-687-2800. Tell him it is Dave Walter's boat at the Piasa Marina on the river road between Alton and Godfrey Illinois. BUC Book International has this boat valued at over $50,000.00, and I doubt that you will find another one like her that has always been in fresh water and covered. I would not be afraid to motor this vessel up or down the river to get to wherever you are. Do some research on these fine boats. You will find that they are very well built and desirable boats. I know I am forgetting something here, so call me at 314-732-592five to get honest answers to all of your questions. Now for the business end. I will need $1,000. down payment within a few days and full payment within 2 weeks. The boat cannot leave here until all funds clear my bank. Sorry, no exceptions. It is a documented vessel , in my name, so that part is easy. It can stay where she is for a long time. You just have to take over the slip fees which are very reasonable at around $150.00 per month. Again, call BEFORE you bid for honest answers to your questions. Thanks, Dave 314-732-592five.